What to eat before and during your run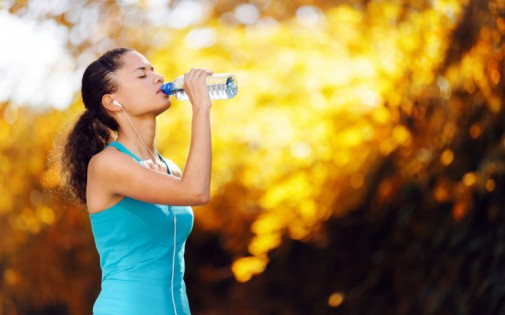 You're laced up. The play list is set, and the pavement is calling you. But that grumbling sound of hunger in your stomach says maybe you're not quite ready.
For a runner, food and drink is about more than just having a meal. It's about getting the right fuel to boost performance. Eating before a run prevents hunger and maintains energy, especially during longer distances.
Bananas are a commonly recommended pre-run snack, along with a half-bagel and peanut butter. But there are some foods that may not be as well-known, yet they have been shown to improve running performance and recovery.
Beets for Performance
The word nitrate can bring to mind scary warnings from the U.S. Environmental Protection Agency about how nitrates in fertilizer, drinking water and processed foods can cause health issues. But sodium nitrate is naturally found in some vegetables. It's safe to eat, and it can improve running performance if eaten before hand.
Take beets, for example. When one group of runners ate a serving of baked beets before a 5k run, they outperformed a group of runners who did not eat them, according to an April 2012 study in the Journal of the Academy of Nutrition and Dietetics. When the researchers put the beet eaters on a treadmill, they ran faster than the other runners. Even during that last mile, they ran 5 percent faster than the other runners. They also seemed to be exerting less energy during the last two miles of the run, even though they were performing better.
Chocolate milk for endurance
Chocolate lovers, raise your hand. Turns out chocolate milk may be a great way to boost energy before and after an intense workout, like running.
Carbs are an important part of refueling energy to muscle, and chocolate milk can replenish carbs just as well as the carbohydrate replacement drink, according to a 2006 study in the International Journal of Sport Nutrition and Exercise Metabolism.
The study involves athletic cyclists, but it looked at a measure that matters just as much for runners — endurance. The athletes who drank chocolate milk before and during their workout, were able to keep going up to 54 percent longer than the ones who drank a typical carb replenishment drink.
Undiluted sports drink for hydration
Sports drinks are often associated with athletes. But runners need the electrolytes in these drinks too, whether running for recreation or training for a big race.
The goal is to avoid drinking too much or too little, the International Marathon Medical Directors Association (IMMDA) advises in its official guidelines. Taking in too much fluid can cause hyponatremia, which is when your blood salt level drops because you're retaining too much fluid. Drinking too little can cause dehydration because you're losing too much fluid.
The IMMDA says all runners going out for 30 minutes or more should have a sports drink handy. But only drink when you're thirsty to make sure you're getting the right amount of fluid. That means resisting the urge to drink too much or put it off for too long. IMMDA advises having a plan, like planning to drink a half-cup every 30 minutes or more frequently if you're running a long distance.
Related Posts
Comments
About the Author
health enews staff is a group of experienced writers from our Advocate Health Care and Aurora Health Care sites, which also includes freelance or intern writers.