More parents popping pills to cope with parenthood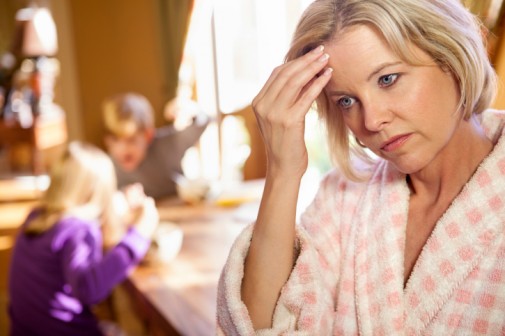 "Xanax helps me be a better mom."
This quote, featured in the March issue of Parenting magazine, set off a firestorm among moms and dads across the country. The notion that a record number of parents are taking anti-anxiety medication and anti-depressants to help them deal with the rollercoaster of parenthood is not being swallowed so easily by many.
Some experts say it could be a sign of the times or the changing face of parenting over the past 30 years. Women now make up half of the U.S. workforce —up from 38 percent in 1970. And the divorce rate for first-time marriages is at 50 percent, according to data from the Pew Research Center and the U.S. Census.
The fact is more than one in five American adults are now taking at least one medication to treat a psychological or behavioral disorder, according to the Centers for Disease Control and Prevention (CDC). That's up 22 percent since 2001.
And for women ages 20 to 44, the use of ADHD medication is up a whopping 264 percent in the past decade.
Dr. Cynthia Gordon, a psychiatrist with Advocate Medical Group says the Parenting article definitely shows a change in how people view mental health: "One shift is that there is now much less stigma in our society about mental health. So more people are seeking treatment who never would have before, and I would definitely put parents in that group."
She also says there are more moms in the workforce and a larger number of  single and divorced moms, which typically means more stress on one parent.
When Gordon saw the Parenting magazine article, she says she was shocked by the headline and the news that more parents are using Xanax to help them cope. "That's alarming to me. As a psychiatrist who specializes in addiction, I never prescribe medications that are addictive and hard for my patients to stop taking," she says.
"Withdrawal symptoms can be just as bad, or worse, than the anxiety that got you on the drug in the first place," she adds.
It's clear — if not frightening — that many Americans are dealing with mental health challenges. One in every 10 Americans reports being depressed, according to the CDC. And across the country, anxiety disorders affect approximately 40 million adults.
Among the most at-risk are stay-at-home moms. A 2012 Gallup poll found that 28 percent say they suffer from depression — that's twice the rate of the general population.
Depression is typically defined as having the following symptoms present for a two-week period or longer:
Fatigue and decreased energy
Feelings of pessimism
Overeating or appetite loss
Insomnia
Loss of interest in hobbies and activities once found pleasurable
Irritability and restlessness
Anxiety disorders have similar symptoms including:
Constant worrying or obsession
Irritability
Trembling
Fatigue
Rapid heartbeat
Gordon says the key is to be properly diagnosed and explore all options for treatment — especially taking a closer look at the root cause of the anxiety or depression.
"Meds alone will never treat depression or anxiety," she cautions. "It's never just biological, and treatment should start with psychotherapy. You need to address the source."
Click here to learn more information about mental health services offered at Advocate Health Care.
Related Posts
Comments
About the Author
health enews staff is a group of experienced writers from our Advocate Health Care and Aurora Health Care sites, which also includes freelance or intern writers.