Scientists name the best diet for your heart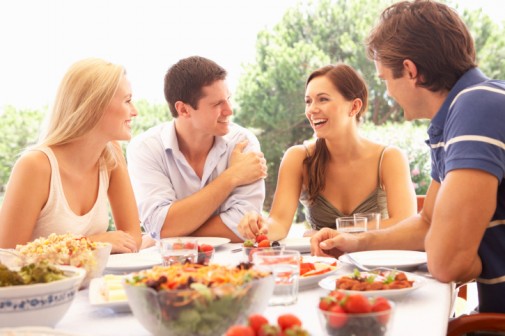 It's official: Scientists say the Mediterranean diet is good for your heart.
According to findings published in the New England Journal of Medicine, eating a diet rich in nuts, olive oil, fruits, veggies and a little red wine can help fight against heart problems better than eating a low-fat diet.
Researchers evaluated nearly 7,500 men and women ranging in ages 55 to 80 for about five years.  They were assigned to one of three groups including individuals who dined on an olive oil-focused Mediterranean diet, another group who ate a Mediterranean diet with nuts as the central ingredient and those who ate a low-fat diet.
At enrollment, the participants had no history of stroke or heart attack, but they did have other risk factors such as obesity, smoking, Type 2 diabetes, high cholesterol and blood pressure.
The olive oil group consumed about a liter of olive oil a week. The nuts group ate about an ounce a day of almonds, walnuts and hazelnuts. It is important to note that both groups also drank wine and ate plenty of fish, fruits and vegetables with their meals.  They also were encouraged to avoid red and processed meats.
The low-fat group ate a diet filled with potatoes, fruits, low-fat dairy, breads, veggies and lean fish. They were given instructions to cut out baked goods, oils, nuts, red and processed meats.
The results showed that of the 288 cardiovascular events that occurred among the participants, 109 were in the low-fat group. Ninety-six events happened in the group who ate the olive oil Mediterranean diet, and there were 83 heart-related occurrences in the individuals who consumed the Mediterranean diet with nuts as the main staple.
Researchers say after looking at the data, the only statistically significant link was found between the Mediterranean diet and stroke, which shows a 30 percent reduction in relative risk. However, researchers say the study does not prove a direct cause and effect.
One of the lead authors of the study noted that one of the primary reasons the Mediterranean diet seems to boost heart health is its combination of good-quality fats like monounsaturated found in olive oil and a host of other good fatty nutrients contained in fish, nuts and veggies.
But U.S. experts warn that these findings no matter how great, should not give Americans a license to start packing in nuts and olive oil into their diets without making modifications.
"Moderation is key," said Dr. Vincent Bufalino Advocate Health Care's vice president of cardiovascular services. "Nuts and olive oils can add a lot of calories to your diet if you don't cut out other things."
Bufalino recommends his patients start with substituting less healthy options with more healthy ones such as changing up your salad dressing to vinegar and olive oil instead of creamy dressings or cutting out your morning muffin and eating 10 to 12 almonds instead.
Related Posts
Comments
About the Author
health enews staff is a group of experienced writers from our Advocate Health Care and Aurora Health Care sites, which also includes freelance or intern writers.