Verdict's In: Researchers say you eat more when you drink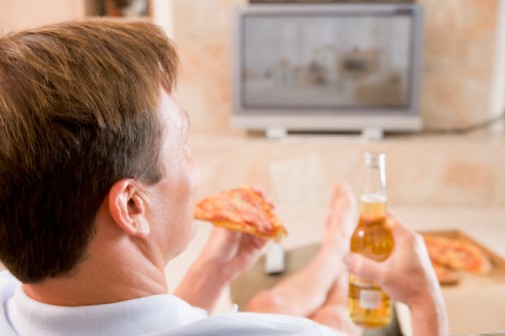 Researchers have found that people eat more unhealthy foods on days they drink alcohol than days they do not. The study, published in The American Journal of Clinical Nutrition, brings awareness to people who choose higher fattening and caloric foods when they drink.
The study looked at a survey of more than 1,800 men and women who were questioned on a day they consumed alcohol and a day when they did not. They were asked about the food they ate and what they drank.
The research showed that on an average non-alcohol day, men ate about 2,400 calories and on days they didn't drink alcohol—compared to about 2,800 calories when they did. Women ate about 1,700 calories on average without alcohol, but with it, they added about 300 more calories.
Researchers also found that not only did the amount of food people consumed go up, but the kind of food people ate also was different on days they drank. Both men and women consumed foods that had nine percent more fat and they ate less dairy products. Men tended to eat more meat and white potatoes with less fruit and milk, while women ate higher fat foods with less milk products.
The study concludes that Americans are eating more caloric and fatty foods on days they drink alcohol.
The Dietary Guidelines for Americans defines moderate alcohol consumption as women having up to one drink per day and men up to two drinks per day.
Nancy Moran, registered dietitian at Advocate Good Samaritan Hospital in Downers Grove, Ill. recommends that if you are drinking to be sure to keep in moderation and always have a full stomach.
"Include whole grains in your meals with B vitamins," Moran says. "Alcohol alone is very caloric, so it's important to keep your diet as normal as possible."
Related Posts
Comments
About the Author
Sarah Scroggins, health enews contributor, is the director of social media at Advocate Health Care and Aurora Health Care. She has a BA and MA in Communications. When not on social media, she loves reading a good book (or audiobook), watching the latest Netflix series and teaching a college night class.