Soda ban could have backfired, researchers say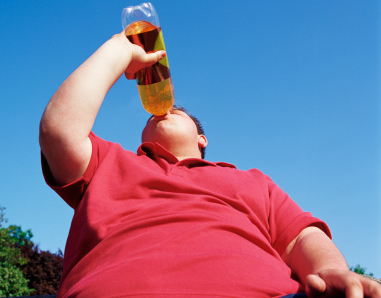 New York City Mayor Michael Bloomberg made national news when he proposed a city ban on selling sugary drinks larger than 16 ounces. The ban was struck down in court in March. But a new study suggests that if this ban had become law, it could have actually done more harm than good.
Under the proposed law, restaurants, fast food chains, sports venues, movie theaters, delis and street vendors would not have been allowed to sell sugar-sweetened beverages larger than 16 ounces.
But the law would have allowed for free refills and the purchase of multiple beverages. That could actually have encouraged people to consume more sweet drinks, according to a study published April 10 online in the journal PLoS One.
Researchers from from the University of California in San Diego did a simulation with 100 undergraduates, offering them menus with drawings of different food and beverage options.
The first option offered beverages from 16 ounces to 32 ounces. The second menu offered drink bundles — two 12-ounce drinks or two 16-ounce drinks. Finally, a third option offered only 16-ounce drinks.
The unintended consequences of banning soda
The students bought significantly more drinks from the second menu, which means they would still end up drinking high quantities of sugary drinks. The businesses would make more money, too.
"These data suggest that a sugary drink restriction may not be effective in reducing consumption when businesses are able to sell bundles of soda that add up to the original, larger drink sizes," the study authors wrote.
"Proponents of the New York City sugary drink limit are likely anticipating only the small 16-ounce size being offered with the medium and large sizes being eliminated from the menu," the authors added. "They may, therefore, be concerned if businesses convert their jumbo-sized sugary drinks into multiple, smaller packages of sugary drinks."
The real problem with sugary drinks
More than 35 percent of U.S. adults are considered obese, according to the US Centers for Disease Control and Prevention (CDC). Among children, the CDC reports that obesity rates have doubled within the past 30 years. Now, more than one-third of children and teens are either considered overweight or obese.
Though the study was a simulation and only looked at what the students bought, not what they actually consumed, BJ Ray, RN, who leads personal wellness programs at Advocate Good Advocate Samaritan Hospital in Downers Grove, Ill, says that consuming too many sugary drinks could be one factor driving the epidemic.
"It used to be a 12-ounce can," Ray said. "Now, you have king sizes."
The issues are not just weight-related. According to Ray, even adding one 12-ounce can of soda per day to your diet can also increase the risk of diabetes.
Other research has said health issues from sugary drinks can lead to death. A study by researchers at the Harvard School of Public Health and presented at the American Heart Association conference in March claims that more than 180,000 deaths worldwide in 2010 were linked to a high intake of sugar-laden drinks, including 25,000 deaths in the United States alone.
The effectiveness of banning such drinks is still controversial, but "it's a start at looking at a serious health issue," Ray said.
Related Posts
Comments
About the Author
health enews staff is a group of experienced writers from our Advocate Health Care and Aurora Health Care sites, which also includes freelance or intern writers.