Sprained ankle…now what?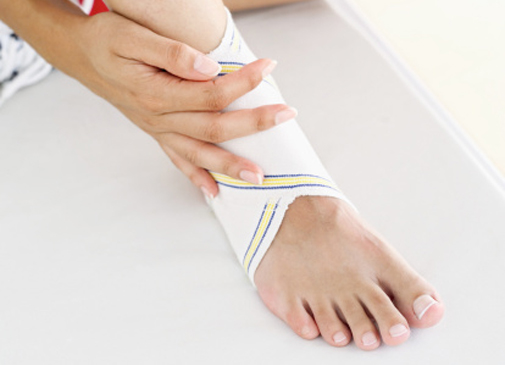 It was just an average night at the gym: running, shooting hoops, a pick-up game with some teenagers. Sounds harmless, right? Block to the right, fake to the left…and I went down.
My ankle ballooned in seconds. It wasn't actually pain at first, but shock at how big my ankle was in an instant. And what about my plans for Saturday night? Ugh…totally ruined!
I assumed my ankle wasn't broken, because I wasn't in serious pain and could walk on it gingerly. It had to be a sprain. So I called Nurse Tammy (that's my mom). I like to call her that in times of need.
Nurse Tammy was unequivocal. "You have to go to the emergency room! What if you broke something or tore a tendon!" I was pretty calm and actually thought it was funny because this was my mom talking now, not Nurse Tammy. So I told her I didn't think it was that extreme and proceeded to exit the gym and go home – hopping on one foot, of course. Mom got me through the night until I saw my doctor the next day.
What I really needed was a sports medicine physician at my beck and call. They may be your best bet to properly treat a sprain, as they see them all too frequently. They can diagnosis you faster and get you on the proper healing plan.
But before you assume it's a sprain, keep in mind the following tips from Dr. Ketan Mody, sports medicine physician at Advocate Good Samaritan Hospital.
"If you absolutely cannot put weight on your foot or feel a missing part of the bone or can't move the bones, you may have done something much more serious than a sprain," he says. "If when you touch the bone itself and you are screaming in pain or there is immediate bruising, you may need to go to the ER for urgent treatment."
And if you do have a sprain, remember the acronym RICE: Rest, Ice, Compression and Elevation. Stay off your foot, ice it on and off for 20 minutes, keep it lightly compressed with an Ace bandage and keep it up high enough above your heart.
"Initially make sure to be proactive by icing it and keeping it compressed," says Dr. Mody. "But then we want you to walk on it, wear an ankle brace and then start physical therapy immediately to help prevent future injury."
So for the first few days, I was four pillows high and had a really cold foot. And in the days following, I wore an ankle brace.
Clumsiness is not a good characteristic to have when you have a sprain. I kept my ankle tight and tried really hard notto  accidentally bump it so that I didn't extend the injury.
It appears my basketball career has ended for now. So I went to the pool and continued my exercise there, while slowing working my way back up to running again.
Related Posts
Comments
About the Author
Sarah Scroggins, health enews contributor, is the director of social media at Advocate Health Care and Aurora Health Care. She has a BA and MA in Communications. When not on social media, she loves reading a good book (or audiobook), watching the latest Netflix series and teaching a college night class.