Caring for a loved one after a stroke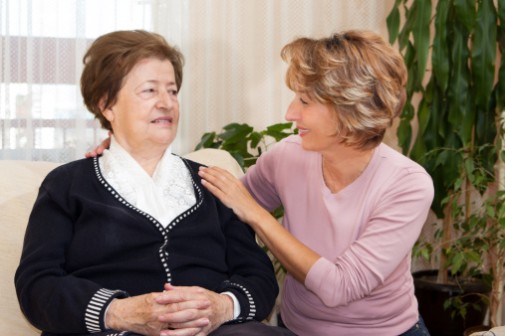 A stroke doesn't just change the patient's life. It changes everyone's life around them.
Because the burden of being a caregiver is often underestimated, it's important to be prepared, says the National Stroke Association (NSA).
Caregivers not only play a major role in managing medical care, but they also may have to shoulder the household's finances due to loss time off work and medical expenses.
"Caregivers become like a coach," says Minna Masor, MSN, Ed.RN, CCRN, neurosciences clinical coordinator at Advocate Illinois Masonic Medical Center. "The patient may have to learn to do basic things all over again."
Masor says this can often leave the caregiver  frustrated. She says the key to helping a loved one after a stroke is to understand that full recovery is a journey of persistence and patience.
As a caregiver, here are four practical tips to help you make that journey a little smoother for your loved one.
Make a plan
Memorizing all of the details of a stroke survivor's care can be like juggling a hundred marbles. But these bits of information can help medical care, health insurance coverage and any legal issues go much more smoothly. That's why the NSA says to take all of this information and put it in a medical care binder. Or save the information on a jump drive. The plan should include:
Emergency contact numbers for friends, family members, doctors and therapists
Your loved one's medical records and current medications
Any advanced care planning documents, such as a Do Not Resuscitate order
Copies of your loved ones driver's license, social security card and health insurance card
Remember to take this information with you to every medical appointment, says the NSA. And share it with the people who will also be involved in caring for the stroke survivor.
Safety-proof the home
Stroke is the leading cause of long-term disability for adults in the U.S., says the U.S. Centers for Disease Control and Prevention (CDC). The brain damage caused by the stroke can lead to vision loss and problems with balance because the muscles on one side of the body can be completely or partially unable to move, the National Stroke Association says.
"Say you have a throw rug down and you're learning to walk with a leg that is numb or tingling," Masor explains, "If you can't lift that foot up all the way, you're going to fall on your face."
To prevent serious fall injuries, it's a good idea to safety proof the home for stroke survivors. In addition to removing throw rugs, the NSA's Careliving Guide advises caregivers to tighten unsteady stair rails and install grab rails in bathrooms. Also, remove any small pieces of furniture that could cause your loved one to stumble.
Another important consideration is to brighten any dimly lit areas, which can also cause a fall. If possible, consider brightening the lights in hallways and common areas.
Learn proper lifting techniques
In case your loved one does suffer a fall or needs help moving, it's best to be prepared. Ask his or her physical therapist about the proper way to move, lift or turn the stroke survivor properly.
Most caregivers are completely unaware of the injury risk they run by incorrectly handling another adult, according to a study in the Journal of Aging Health. Without proper technique, caregivers were found to be twice as likely to suffer a physical injury related to their caregiving duties.
"I've seen back injuries, shoulder injuries, stress-related injuries, everything," says Masor, who worked with hundreds of stroke patients last year at Advocate Illinois Masonic. "It's like sports. There are the weekend warriors who say they're going to run a marathon tomorrow even though they've never run a mile. If you haven't trained you can hurt yourself."
Don't forget about you
Stroke survivors can become depressed, but so can caregivers. That's why it's important to take care of you and give yourself a break, Masor says. That could mean asking others for help or simply taking a break every now and then.
"What surprises caregivers most is the depression patients can experience after a stroke," she says. "There are support groups for caregivers, you can also check whether your insurance will cover home care, even for just one hour to have a break. Caregivers need care, too."
Related Posts
Comments
About the Author
health enews staff is a group of experienced writers from our Advocate Health Care and Aurora Health Care sites, which also includes freelance or intern writers.