Parent juggling act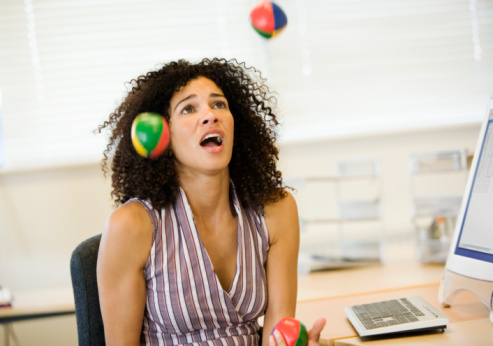 For the past two weeks, I had to perfect my juggling skills.
My parents, who care for my son every day while my husband and I are at work, were on a well-deserved two-week vacation. That leaves me to keep several childcare balls in the air.
My son, David Michael, spent the first three days with a stay-at-home mom neighbor and the next two days at home with my husband, who is taking a couple personal days. The following week, he spent three days with another stay-at-home mom friend and the next two days with his paternal grandparents. I needed a nap just thinking about it.
Fortunately, David Michael is an easygoing, low-maintenance kid. My neighbor texted that he got upset about 45 minutes after I dropped him off, when he apparently realized I wasn't returning soon. He calmed down in time for his first nap.
It was hard not to count down the hours until I saw him again, but fortunately, my work kept me busy and fulfilled. Compounding my mommy guilt was the fact that I barely saw him over that weekend.
His paternal grandparents watched him Thursday through Sunday morning as my husband and I extended a work conference into a weekend date in downtown Chicago.
As I stole glances at my cell phone to see his little face on my screen wallpaper, what I looked forward to most was my husband and I getting David Michael ready for bed.
Those little moments fuel my day and make it all worthwhile – all the driving around, dropping off, picking up, calling for favors and juggling that fill my calendar.
That's what I hope to share in this blog. Thanks for reading and, please, submit your comments. I want to create a conversation in this space.
Related Posts
Comments
About the Author
Lisa Parro, health enews contributor, is manager of content strategy for Advocate Aurora Health. A former journalist, Lisa has been in health care public relations since 2008 and has a master's degree in journalism from Northwestern University. She and her family live in Chicago's western suburbs.