Breast milk donors give boost to Chicago's at-risk infants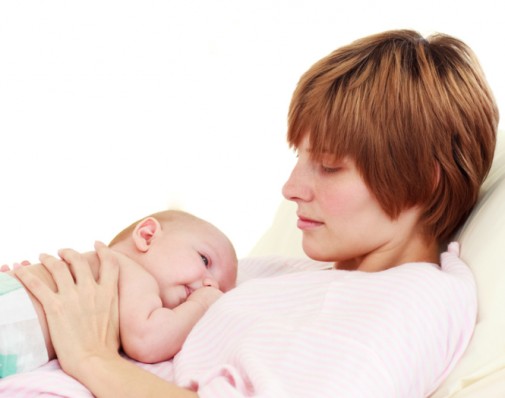 You've heard of sperm banks, right? Well, why not a bank for breast milk?
Research has long shown that using pasteurized donor breast milk in neonatal intensive care units, or NICUs, results in healthier babies and lower mortality rates. But until recently, most Chicago-area hospitals didn't have that option, instead relying on formula for at-risk babies whose mothers were either too ill or unable to produce their own milk.
No longer. In 2012, Advocate Children's Hospital opened the Milk Depot, Illinois' first comprehensive milk donation support program. The program provides 100 percent exclusive human milk feeding to babies born at less than 3.3 pounds or those who are sick.
"We use mom's milk first, then we go to pasteurized donor human milk," explains Summer Cassidy, the hospital's lactation educator and consultant in the NICU.
Using 100 percent exclusive human milk decreases mortality rates, shortens stays in the NICU by nearly two weeks and reduces incidents of feeding intolerance and diarrhea, Cassidy says. It also lowers the rate of infections, such as necrotizing enterocolitis, or NEC, an inflammatory condition that destroys part of the intestines and carries mortality rates as high as 50 percent.
In the program's first six months, the NICU provided more than 2,500 ounces of pasteurized human donor milk to 34 babies, Cassidy says. Moms must sign a consent form for their babies to receive the milk, she adds.
How it works
The Milk Depot gets its donor milk from the Mothers Milk Bank of the Western Great Lakes, which opened in 2010, and the Indiana Mother's Milk Bank, operating since 2005. Moms who want to donate talk with the sites' lactation consultants, who perform an initial prescreening to determine eligibility, help moms with milk bank paperwork and provide information about the required blood tests and testing locations.
"The milk bank has a strict screening process. Number one, the mom has to pass strict lifestyle guidelines," explains Cassidy.
Moms also must receive medical clearance from their doctors and have their blood tested for several communicable diseases, including HIV, Hepatitis B and syphilis. Once approved, the moms send their milk to the bank, where it's pooled, pasteurized and tested. Once it's proven safe, the milk is packaged on dry ice and shipped to Advocate Children's Hospital on the Park Ridge campus either weekly or monthly as needed.
As the saying goes, it takes a village to raise a child. If you'd like to do your part, the need for donor milk in the Chicago area is growing, due in part to a breast milk shortage in regional milk banks.
If you're interested in sharing the life-saving gift of milk or you would like more information, please contact a lactation consultant at Advocate Children's Hospital, at 847.723.7341.
Want to donate?
The Human Milk Banking Association of North America has established the following requirements for donating breast milk.
Mothers must be:
In good health
Not regularly on most medications or herbal supplements (with the exception of prenatal vitamins, human insulin, thyroid replacement hormones, nasal sprays, asthma inhalers, topical treatments, eye drops, progestin-only or low dose estrogen birth control products. For other exceptions, please contact a milk bank.)
Willing to undergo blood testing (at the milk bank's expense)
Willing to donate at least 100 ounces of milk (some banks have a higher minimum)
Advocate hospitals are currently taking steps as part of the Baby Friendly Hospital Initiative through a global effort with the World Health Organization and UNICEF to be recognized as facilities that offer an optimal level of care for infant feeding and mother/baby bonding. Good Samaritan Hospital in Downers Grove, Ill., implemented the donor milk program for moms and babies in 2012.
Related Posts
Comments
About the Author
health enews staff is a group of experienced writers from our Advocate Health Care and Aurora Health Care sites, which also includes freelance or intern writers.