Kids' second concussions may require longer recovery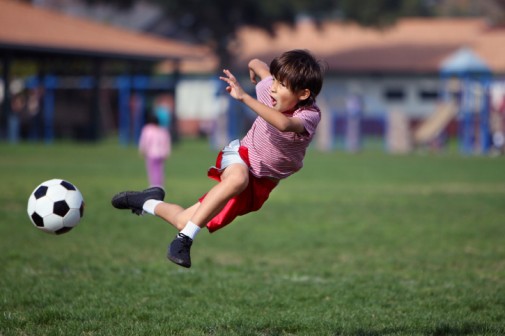 As summer sets in, kids are becoming more active, taking part in baseball games, summer soccer leagues, cycling and more. And with this increased activity comes a greater risk for head injury.
Generally, health experts say it takes an average of 12 days to fully recover from the effects a concussion, a type of traumatic brain injury (TBI) caused by a blow to the head. However, if this is the child's second or third brain injury, it could take as twice as long to recover and get back to full activity, according to a new study published online by the medical journal Pediatrics.
The study, which looked at nearly 300 11- to 22-year-olds who suffered a concussion, reported it took an average of 24 days to recover from a second concussion, no matter how long ago the first had occurred. For those who suffered a second concussion within a year of the first, the average recovery time increased dramatically to 35 days. Researchers believe that there is a cumulative effect of damage after each injury that slows recovery.
"What's key here is this shows the brain doesn't recover as quickly from a second or third concussion as it might the first," says Dr. Raina Gupta, neurologist at Advocate Illinois Masonic Medical Center in Chicago. "We should recommend that kids who have been injured before to have longer time for recovery after the second event. Even after the brain seems to have recovered from a first concussion, this study shows that there are lasting effects that need to be considered for the child's safety and long-term health."
According to the U.S. Centers for Disease Control and Prevention, nearly half a million emergency department visits occur annually for TBI in children ages 0 to 14.
According to Dr. Gupta, the long-term effects of concussion are still unclear, though they may include memory loss and other changes in cognition. In addition, some recent studies have shown that professional athletes who have repeatedly sustained concussions are at an increased risk for Alzheimer's disease and Lou Gehrig's disease. This new information further supports the theory that there can be long-term consequences to brain function following concussion, she says.
The immediate symptoms of concussion include:
Headaches
Dizziness
Nausea
Sleep disturbance
Depression or frustration
Vomiting
Blurred or double vision
Restlessness
Fatigue
Noise sensitivity
Light sensitivity
Poor memory issues
"Sports are a major cause of concussion in children and young adults," Dr. Gupta says. "It's extremely important for physicians, parents and coaches not to let kids who have been injured with a concussion get back onto the field until their symptoms have fully resolved. We should be more sensitive to concussions in children, since we don't understand the long-term effects to their developing brains. And if a child is having repeated concussions, parents should consider a new, lower impact sport."
Related Posts
Comments
About the Author
health enews staff is a group of experienced writers from our Advocate Health Care and Aurora Health Care sites, which also includes freelance or intern writers.