5 tips for running safely in the heat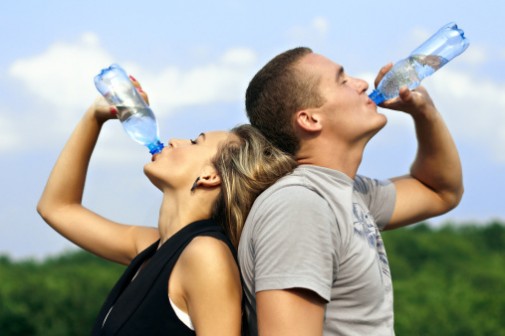 A mild Midwestern spring has made for ideal conditions for avid runners, but as the summer finally starts to heat up, it's important for runners to be aware of the dangers of exercising in extreme temperatures.
Exercising on hot days can lead to high body temperatures, brain and organ damage, and even death, according to the Centers for Disease Control (CDC). On average, 675 people in the U.S. die annually from complications related to extreme heat. That's more than die in tornadoes, hurricanes, floods, lightning or any other weather event combined, the CDC says.
But health experts say it's possible to run safely all through the summer if you keep the following tips in mind:
Upgrade (and lighten) your wardrobe: The new generation of moisture-wicking, "cool" exercise gear does a better job of keeping your core body temperature cooler than your old cotton t-shirts and shorts. "The lighter, the better," says Dr. Jennifer DeBruler, an internal medicine physician with Advocate Medical Group.
Crack-of-dawn or twilight run: Choose one of these over the mid-afternoon runs when temperatures can be their most brutal. Dr. DeBruler adds, "Remember to stay safe when running in the dark or near-dark conditions. Be aware of your surroundings, and wear reflective clothing if you're near traffic."
Hydrate, hydrate, hydrate: Experts recommend drinking about a half a quart of water two hours before your workout, and then drink smaller amounts (4 to 7 oz) while you are running, as early as 15 minutes into the session. Learn to run with a water bottle, or plan your running routes with drinking fountains in advance.
Understand the risks: Every runner should understand the symptoms of heat-related illnesses, such as heat stroke. "If you experience nausea, vomiting, headache, dizziness or any kind of change in mental status, seek immediate medical attention," says Dr. DeBruler. "Heat-related illnesses can progress very quickly, so it's important treat them right away."
Supplement your diet: It's a good idea to change your diet to account for running in warmer weather. When you sweat, you lose sodium and potassium. Experts suggest making sure you're eating foods rich in potassium, such as bananas, carrots, milk or yogurt.
Finally, Dr. DeBruler recommends, "On days in which the temperatures are dangerously high, you shouldn't exercise at all, and follow the CDC recommended guidelines for preventing heat related illnesses. I know that running is important to runners, but you need to protect your body."
Related Posts
Comments
About the Author
health enews staff is a group of experienced writers from our Advocate Health Care and Aurora Health Care sites, which also includes freelance or intern writers.