IV vitamin treatments: The latest "IT" cocktail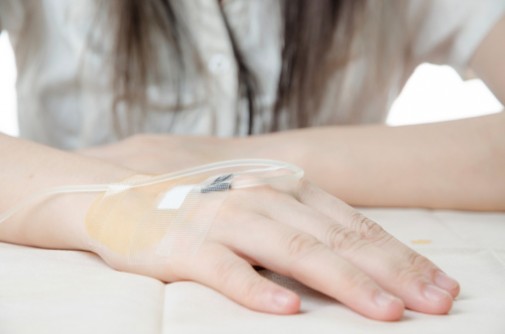 As shocking as it may sound, a growing number of people say they've found a new fountain of health and vitality, and it springs forth from a small bag—an IV bag.
In fact, one 48-year-old New York woman said her monthly IV vitamin cocktail treatments make her feel "like she can do anything."
The Big Apple is where a growing number of physicians are seeing a huge spike in requests for intravenous vitamin treatments, which they say can run anywhere from $130 to $1,000 per session (typically one to two hours).
And like the woman who described the IV fix as a boost of sorts, others who have received doses of B-12 and other vitamins by way of IV say the treatments help increase their energy levels, combat colds and stay youthful.
It is important to note, of course, that IV vitamin treatments are NOT FDA-approved.
Some health experts say the treatments became popular after Major League Baseball players were rumored to use them to enhance their performance on the field. The rest, as the old cliché goes, is now IV history.
But many critics warn that the practice is nothing more than a gimmick. In an online statement, a professor and urologist at Weill Cornell Medical Center said, "There is no evidence-based medicine to support the use of vitamin drips; they are just moneymakers.''
But these words of caution have not stopped a number of celebrities and other members of the social set from jumping on the IV train—some calling it the "mother of all antioxidants."
Just last May, popular singer, Rihanna, Tweeted a pic of herself getting a drip following a night of partying.
How it works
The treatment typically begins with a blood workup, to determine what nutrients you need. And some places offer additional supplement packages to enhance the IV experience.
The IV nutrient boom has even extended beyond the doctor's office. In Miami, some beach cabanas are now equipped with IVs, and in Chicago, you can get the service at a place called IVme Hydration Clinic.
While some medical practitioners see the drips as a way to cater to those who lead hectic lifestyles to help them keep their competitive edge, most physicians and health experts agree IV nutrition is no way to get nutrition at all.
Related Posts
Comments
About the Author
health enews staff is a group of experienced writers from our Advocate Health Care and Aurora Health Care sites, which also includes freelance or intern writers.