Spinal injury patient back on beat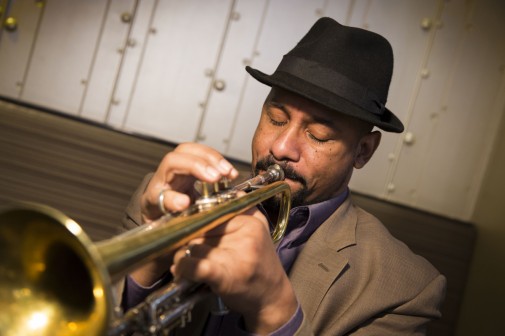 "I can't live like this any longer!" exclaimed Phillip Perkins.
For nearly a year, his wife Hilda and their two adult children watched with trepidation as Perkins's health deteriorated. Here was a professional jazz musician who had traveled the world playing with headliners like Earth, Wind and Fire; the Emotions; the Ohio Players; and comedian Bernie Mac's band.
Yet, at age 47, playing the trumpet, French horn and drums became increasingly difficult. He began to need a wheel chair or a cane because persistent dizziness and severe pain in his arms and shoulders caused him to lose his balance. He even had to sit out on going to amusement parks, bike riding or playing ball with his three grandchildren.
In the early '90s, while serving as a combat medic in the military, Perkins fell and suffered a serious neck injury.  He knew it was bad at the time, but he continued to work and dealt with the pain.  "I was a wrestler, a gymnast, martial artist, a runner — I played all kinds of sports," Perkins says. "I could endure pain and discomfort. I learned this as an athlete and from military training."
But, that pain led to dizziness and mobility issues, which gradually became too much to bear.
The breaking point, he says, was when he had to use a wheelchair for a show in Colorado Springs in 2012. His balance was so off that he couldn't stand for long. And his hands were going numb.  "I knew I had to do something," Perkins says.
After seeing several doctors who offered no help, he met with Dr. Caleb Lippman a neurosurgeon in the Spine Center at Advocate Christ Medical Center.
In late January 2013, Dr. Lippman performed what Perkins calls "a landmark surgery." It was an anterior cervical discectomy. The procedure aims to relieve the spinal cord pressure from bulging discs between the spinal vertebrae that result from injury or arthritis. A delicate and complex surgery, surgeons go in through the front of the neck to remove the damaged disc. This approach offers better access to the spine and less pain for patients.
The outpatient surgery took less than four hours. Both Dr. Lippman and Perkins agree it was a resounding success. "The problems that present with spinal cord compression just get progressively worse and worse," Dr. Lippman says. "If not treated, the dysfunction can become profound and permanent."
Perkins now undergoes physical therapy at the Advocate Christ Outpatient Center in Palos Heights.  And this weekend he'll be having his first jazz performance since the surgery. He's also looking forward to starting a new career — this one in the healthcare field as a certified medical assistant and eventually, perhaps a nurse.
"Today, I have a lot to be jazzed about!" Perkins says. "My family has me back, and they couldn't be happier.  Somehow, I knew that someday I would have both medicine and music in my life."
For more information on spine health, stop by our free upcoming class:
Numbness, Tingling & Pain – Is It From Your Spine?
Advocate Christ Outpatient Center, 12350 S. Harlem Ave, Palos Heights, IL
Wednesday, May 22 at 6 pm
To register, call 1.800.3.ADVOCATE Ask for registration Code: 1G77
Related Posts
Comments
About the Author
health enews staff is a group of experienced writers from our Advocate Health Care and Aurora Health Care sites, which also includes freelance or intern writers.