Can your child's ADHD be improved through diet?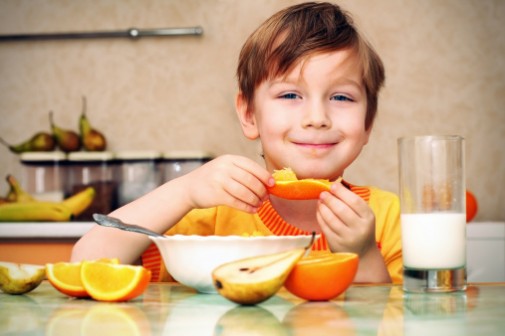 According to the Centers for Disease Control and Prevention (CDC), the diagnosis of attention deficit hyperactivity disorder, or ADHD, is on the rise with 11 percent of school-age children being diagnosed with it.
As this trend grows, so do the number of approaches to treat and manage ADHD—from behavioral therapies to medications and everything in between. And while these methods may prove helpful, experts say a change in diet may also serve as tool that can help manage the disorder.
Courtney Southwood, a registered dietitian with Advocate Children's Hospital, suggests some approaches that may prove helpful when considering dietary changes for a child with ADHD.
Finding the trouble-makers
One place to start is the elimination diet, where various foods are removed from the child's diet and then slowly reintroduced to determine which ones affect behavior.
Southwood explains that an elimination diet allows parents and caregivers to identify foods that directly affect the behavior of children with ADHD in an adverse way. The verdict is out on whether this is effective though, says Southwood. Research has shown that some children with ADHD who respond well to this approach while some studies have shown children who do not so no conclusive results exist.
If parents choose this path, Southwood cautions them to be mindful that the child still gets the necessary vitamins and minerals to prevent nutritional deficiencies.
"I recommend a hypoallergenic, complete multivitamin to support good health," says Southwood. "It should be free from artificial flavors, sweeteners or preservatives because that's an area that continues to be researched as some children may respond well to this type of treatment/diet."
Sugar and other artificial sweeteners sometimes play a key role in an elimination diet, but again the jury is still out on how effective eliminating it from the diet really is.
Southwood says focusing on a healthy, well-balanced diet, reducing, and in some cases eliminating added sugar may be beneficial.
"By shopping the perimeter of the grocery store, where you'll find things like fresh produce, meat and seafood, you can reduce your intake of these food additives while achieving a healthier, more balanced diet, which may help children with ADHD feel better and in turn improve behavior," she says.
If parents are interested in the elimination diet, Southwood says, "The current recommendation is to do it for four weeks, and if the child is responds well, then introduce food items one at a time back into the diet to see if the child reacts with each food that's introduced."
After four weeks, if the child shows no response, Southwood says, "then discontinue the diet, as more than likely it may not have an influence on behavior."
Boost fatty acids
A 2012 study published in the journal Pediatrics revealed an ADHD-free "healthy" diet that contained fiber, folate and omega-3 fatty acids. Incorporating more omega-3s and fatty acids in a child's diet is a growing hot topic, says Southwood, in terms of its benefits for ADHD.
Although Omega-3s are a group of fats that our bodies need to function normally, the research is unclear on how effective omega-3s are on ADHD, says Southwood. Some studies have shown that with an omega-3-rich diet, children with ADHD have shown improvements in literacy and behavior, she says. Southwood adds that this diet has also proven helpful for kids with developmental or learning disabilities.
"But omega-3s are good naturally, and include fatty fish, like salmon and tuna, flax seed, walnuts and some of the healthier oils like canola," says Southwood.
Best practices
A good overall approach for your child is to have a healthy, well-balanced diet, Southwood says. This includes fruits, veggies, lean proteins, low-fat dairy and whole grains.
She also suggests that if a family has one child with ADHD and one without it, getting the entire family involved in healthy eating makes it easier for everyone.
"It will help the child with ADHD make an overall lifestyle change supported by the whole family. Remodeling and reintroducing new foods helps promote increased acceptance of these new foods and establishes healthy eating habits going forward when the whole family is on board, says Southwood.
"By encouraging and supporting a healthy diet, you will naturally remove a lot of artificial components. Getting the most nutritious food and alleviating all that junk is a much better approach overall," she adds.
Related Posts
Comments
About the Author
health enews staff is a group of experienced writers from our Advocate Health Care and Aurora Health Care sites, which also includes freelance or intern writers.