Delayed umbilical cord clamping improves newborns' health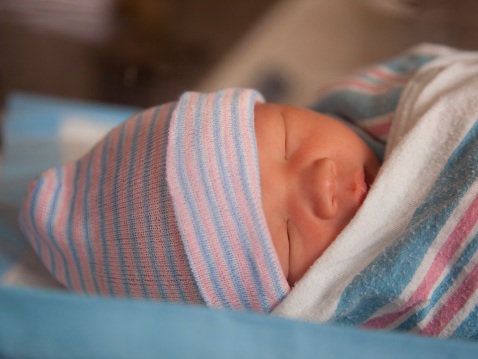 Timing is everything, as the saying goes. Recently, determining the best time to clamp a newborn's umbilical cord was examined in a research review published online in the July issue of The Cochrane Library. Although no strict guidelines exist about the best times for umbilical cord clamping, the authors of the review found that delaying the clamping can benefit newborns.
Standard practice is to clamp the umbilical cord that connects mom to the baby less than a minute after birth, however the review authors found that newborns' blood and iron levels were healthier when the cord was clamped later.
Researchers reviewed data from 15 trials that had 3,911 women and their babies as participants. They examined outcomes for moms and babies separately and looked at hemoglobin concentrations as an indication of healthy blood and iron levels.
According to the review, clamping the cord too early may reduce the amount of blood passing from mom to baby through the placenta, which can affect the baby's iron levels. Alternately, delayed cord clamping, carried out more than a minute after birth, reportedly may also slightly increase the risk of jaundice.
The researchers' review revealed that while clamping the cord later made no difference in the hemorrhaging risk, blood loss or hemoglobin levels in the mother, the health of the newborns was improved in a number of ways. When cord clamping was delayed, newborns had higher hemoglobin levels between one and two days after birth and were less likely to be iron-deficient three to six months after birth. Birth weight was also higher with delayed cord clamping.
The World Health Organization now recommends cord clamping between 1 and 3 minutes after birth.
"In light of growing evidence that delayed cord clamping increases early hemoglobin concentrations and iron stores in infants, a more liberal approach to delaying clamping of the umbilical cord in healthy babies appears to be warranted," said Philippa Middleton, a review author, in a statement
Middleton, based at the Australian Research Center for Health of Women and Babies in Adelaide, Australia, also noted that clamping the cord later led to a slightly higher number of babies needing treatment for jaundice, which is treated by light therapy.
"The benefits of delayed cord clamping need to be weighed against the small additional risk of jaundice in newborns," cautioned Middleton. "Later cord clamping to increase iron stores might be particularly beneficial in settings where severe anemia is common," she added.
Related Posts
Comments
About the Author
health enews staff is a group of experienced writers from our Advocate Health Care and Aurora Health Care sites, which also includes freelance or intern writers.