How important is folic acid for women?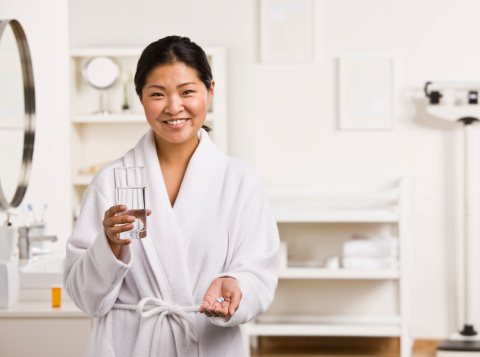 A recent study from the Norwegian Institute of Public Health found that women who take folic acid supplements could possibly reduce the risk of their child developing autism.
The study isn't the first one to talk about the vitamin's benefits. Whether you're thinking about having a baby or are already pregnant, experts say folic acid should be an essential part of any women's diet.
According to Dr. Jeness M. Barthel,  obstetrician and gynecologist on staff at Advocate Sherman Hospital, folic acid is an important "building block" in the human body that aids in fetal development and can help prevent certain birth defects.
"In reproductive-aged women planning to conceive and in pregnant women, folic acid is  important  more specifically in the formation of the fetal nervous system or 'neural tube,'" Dr. Barthel says. "The main birth defects that folic acid supplementation may prevent, are brain and spinal cord defects or neural tube defects (NTD)."
In fact, the appropriate folic acid supplementation can prevent NTD by 50-70 percent if taken prior to conception and during the early weeks of pregnancy, Dr. Barthel adds.
A link may also exist between folic acid supplementation and a decrease in the incidence of orofacial, cardiac, urinary tract and limb defects as well as preeclampsia, pre-term birth and growth restriction.
What is the recommended dose of folic acid?
Reproductive-aged and pregnant women should get a minimum of 400 mcg (0.4mg) in their diet daily, Dr. Barthel says.
"Women can take an over-the-counter folic acid supplement, multivitamin or prenatal vitamin to obtain this dose," Dr. Barthel says. "Also, many foods are fortified with folic acid as women consume approximately 280 mcg daily in their diet. However, this is not enough to prevent NTD."
Dr. Barthel says there are other sources of folate (the water soluble version of folic acid) including green leafy vegetables, oranges and legumes. Foods fortified with folic acid include breakfast cereal, orange juice, tomato juice and bread.
"But the best way to get enough folic acid in your diet is to take a daily multivitamin," she says.
If you're planning on getting pregnant, you should start taking 400 mcg of folic acid at least a month before conception, he says.
"In general, it would be wise for all reproductive aged women to be supplementing with at least 400 mcg daily of folic acid in case an accidental pregnancy occurs," Dr. Barthel says. "Once pregnant, a woman should continue taking folic acid (400-800mcg daily) throughout her pregnancy until delivery."
In addition to reproductive-aged and pregnant women, women of all ages can benefit from folic acid supplementation, she says. According to Dr. Barthel, there is a suggestion that folic acid may prevent certain types of cancers, cardiovascular diseases, hypertension, osteoporosis and dementia. However, no conclusive evidence can confirm this. Therefore, taking more than 400 mcg daily is not recommended.
Dr. Barthel adds, "No matter your age, you should consider incorporating a daily dose of folic acid into your diet for maximum health benefits."
Related Posts
Comments
About the Author
health enews staff is a group of experienced writers from our Advocate Aurora Health sites, which also includes freelance or intern writers.