Parental fears may prevent girls from getting cervical cancer protection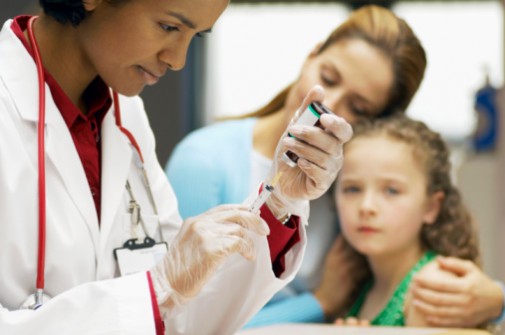 In June, the Centers for Disease Control and Prevention (CDC) released findings that showed the vaccine for human papillomavirus (HPV) worked better than anticipated, resulting in the types of HPV being cut in half in girls between the ages of 14 and 19.
On the heels of this comes an announcement by the CDC that HPV vaccination efforts have stalled. The announcement was based on survey results published in the July 26 issue of the CDC's Morbidity and Morality Weekly Report.
The survey revealed that rates for adolescent girls receiving HPV vaccines stayed the same between 2011 and 2012, with about 53 percent of girls receiving at least one dose of the vaccine.
It also found that only one-third had received the full three-dose series of shots, a rate that between 2011 and 2012 had slightly declined. According to the CDC, one dose does not provide all the necessary protections so it's important to get the second and third doses.
"We're dropping the ball," said CDC director Dr. Tom Frieden in a press briefing. "We're missing opportunities to give HPV vaccination, and that needs to change to protect girls against cervical cancer."
Originally, Dr. Frieden said the belief was that vaccination rates were low because adolescents don't see the doctor regularly making it hard to get the three doses in. But that does not appear to be the problem. The true cause may lie with missed opportunities on the part of parents and doctors, Dr. Frieden said.
Researchers found that parents didn't get their daughters vaccinated because their doctors didn't recommend it. Parents also had other concerns, according to the research, including unfamiliarity with either the disease or the vaccine and concern over the safety of the vaccine.
Another key reason the study found that parents weren't arming their daughter with the shots was thinking that the vaccine may be in some way a license or permission to be sexually active. Dr. Frieden countered by citing research showing that preteens and teens who are vaccinated don't have sex any sooner than their peers who have not received the vaccine. "HPV vaccine does not open the door to sex. HPV vaccine closes the door to cancer," said Dr. Frieden.
He added that the vaccine had to be given before the onset of sexual activity, and the recommended age is 11 or 12 years old.
"Personally, I agree that we're not doing enough, but I think we're missing the boat," says Dr. Marilyn Pearson, an Advocate Medical Group general internist board certified in oncology. "We're targeting girls because of cervical cancer, but HPV affects both boys and girls; the majority of girls get HPV from boys," she said.
"We should be treating it like any other vaccination, taking the sex connotation out of it, and encouraging parents to vaccinate all adolescents," says Dr. Marilyn Pearson. "There is data implicating HPV in other cancers as well, and we need to get our puritanical heads out of the sand and start realizing we can do something about it."
Related Posts
Comments
About the Author
health enews staff is a group of experienced writers from our Advocate Health Care and Aurora Health Care sites, which also includes freelance or intern writers.