Are Americans eating less fast food?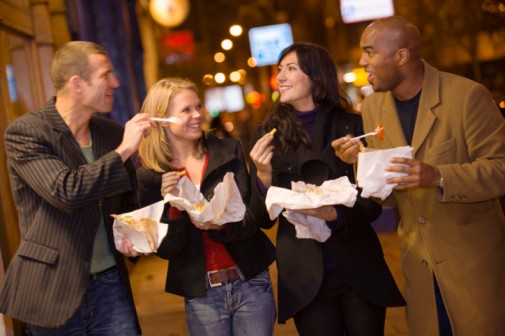 Fast food tends to find its way into people's lives one way or another – rushing out the door, short lunch breaks or summer road trips. But recent data from the Centers for Disease Control and Prevention (CDC) shows that within the last few years, adults have actually decreased their daily intake of the convenient but not-so-healthy meal option.
From 2007 to 2010, the percentage of fast food daily consumption for adults was about 11.3 percent. Data from 2003 to 2006 showed the percentage was roughly 12.8 percent.
According to research from the National Center for Health Statistics, obese adults in each age group consumed the highest percentage of fast food for their daily calorie intake.
In a statement, Dr. Lenard Lesser, a clinical scholar at the UCLA Department of Family Medicine, said, "Obesity is a significant health problem, so we need to know the factors that contribute to the overeating of processed food."
Laura Tarry, fitness specialist at the Good Samaritan Health and Wellness Center, always recommends that her clients decrease or nix fast food from their regimen completely.
"In order to keep decreasing this percentage, we have to make it a trend and pay more attention to the calorie counts at fast food restaurants," says Tarry. "If you are already taking the time to stop, then you can choose healthier options – such as the local grocery story or deli to pick up a sandwich or salad—quick and easy."
Tarry says the bottom line is: Avoid fast food so you can make healthy choices that your body needs.
Related Posts
Comments
About the Author
Sarah Scroggins, health enews contributor, is the director of social media at Advocate Health Care and Aurora Health Care. She has a BA and MA in Communications. When not on social media, she loves reading a good book (or audiobook), watching the latest Netflix series and teaching a college night class.