Jogging pains? A simple test may help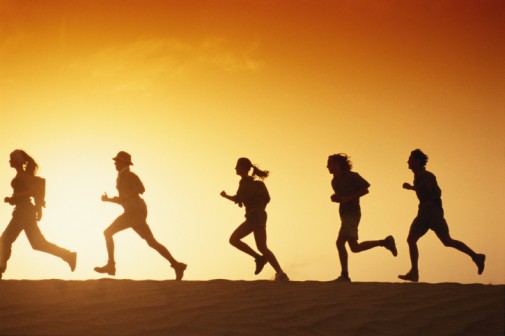 Running season is in full swing. Often, this comes with aches and pains, but the truly avid runner will do whatever they can to keep running, which can be dangerous. You shouldn't ignore your body, especially if you run with ongoing pain.
If you are running with persistent pain, a simple assessment might be able to help.
"We do gait analyses for patients of all ages," says Amanda Nauman, PT, MPT, C/NDT, a physical therapist at Advocate Condell Medical Center in Libertyville, Ill. "A gait analysis involves a special mat with pressure sensors that our patients walk across. This tool is often used by athletes who are looking to improve performance or correct overuse injuries such as shin splints, lower back pain or runner's knee. It gives us a very detailed reading of up to 20 different measures, such as heel strike, step time and even a fall prediction score for our older patients who might be at greater risk of falls."
For younger athletes the assessment includes a treadmill analysis, in which the patient runs on a treadmill that records video of their feet.
"This test can reveal issues with a patient's running form or even their footwear," explains Laura Schimkus, PT, DPT, OCS, also a physical therapist at Advocate Condell. Experts recommend to keep track of your mileage and make sure to change your running shoes every 500 miles, as the cushioning tends to break down over time.
And running form has been found to be a significant factor in running injuries. Harvard researchers found that runners who strike the ground with their heals (pdf) are twice as likely to get a stress injuries than runners who strike with the front part of their feet.
But most people don't even know what kind of form they have.
"We can slow the video down and get a very close look at how a runner's foot is striking the ground and whether they are over- or under-pronating. For some runners, a simple recommendation on how to appropriately stretch out or correct bad habits can help to ease issues."
Schimkus admits that most avid runners tend to run through occasional pain, but a comprehensive gait analysis might be appropriate for chronic pain. "We tend to see a lot of beginning runners who just aren't wearing the right kind of shoes, or who are overtraining and escalating their run distance or speed too quickly."
Schimkus makes specialized recommendations based on the outcome of the gait analysis. Those recommendations may include further physical therapy: "Oftentimes, though, physical therapy is a much better alternative for those who are really motivated to continue running, but don't want to face the possibility of injury that may require surgery down the road."
Learn more about getting a gait analysis at Advocate Condell Medical Center.
Related Posts
Comments
About the Author
health enews staff is a group of experienced writers from our Advocate Health Care and Aurora Health Care sites, which also includes freelance or intern writers.