What you need to know about juvenile arthritis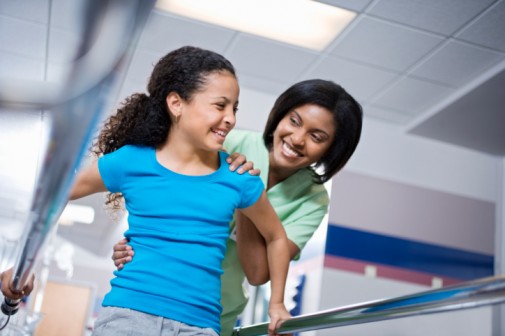 When you think of someone receiving total knee replacement surgery, your first thought may be of an older patient. But a surprising new study finds the procedure can be helpful for children with arthritis.
The study raises awareness about the challenges scores of kids with arthritis face. According to the most recent statistics from the Centers for Disease Control and Prevention (CDC), 294,000 U.S. people under age 18 were diagnosed with arthritis or other rheumatic conditions in 2007.
It can develop as early as 6 months old, but usually before age 16, according to the U.S. Library of Medicine.
The CDC says the condition accounts for about 827,000 doctor visits annually, including an average of 83,000 visits to the emergency room.
Health enews checked in with Dr. David Mael, a rheumatologist at Advocate Illinois Masonic Medical Center on Chicago's North Side, for a primer on juvenile arthritis:

What exactly is juvenile arthritis?
One of the common types of juvenile arthritis is juvenile idiopathic arthritis, which is also called juvenile rheumatoid arthritis. Arthritis is a joint disease characterized by inflammation of the joints. Typically, pain, swelling and warmth are classic signs of arthritis, but only one or two components may be present at any one time.
What is the cause and can juvenile arthritis be prevented?
The cause of juvenile arthritis is unknown at this time. Viruses, environmental triggers and genetics may all play a role to some degree in the development of arthritis.
What are the symptoms of juvenile arthritis?
Stiffness, pain and swelling in any combination in one or more joints for a week should alert parents to take their child to the doctor. Children presenting with sudden onset of joint pain, swelling and fever, however, should be evaluated immediately.
How is it diagnosed?
Your primary care doctor may refer you to a pediatric rheumatologist who can take a complete health history, which may include several blood tests, to detect the extent of signs and symptoms. Imaging tests may be ordered to rule out any other causes.
How is it treated?
A variety of medications called anti-inflammatory drugs are used to control pain, swelling and stiffness and try to prevent long-term damage and loss of function in affected joints. Appropriate exercise, physical and occupational therapies also help to keep joints functioning and prevent loss of motion.
Can it be cured?
Unfortunately, there is no cure at this time, but research is ongoing. The goal is to control pain, disability, prevent damage, and improve the quality of life of patients with arthritis
Where can people get support and education?
The American College of Rheumatology and the Arthritis Foundation are two quality organizations that can provide resources and education for patients and families. Visit Advocate Health Care to find a rheumatologists near you.
Related Posts
Comments
About the Author
health enews staff is a group of experienced writers from our Advocate Health Care and Aurora Health Care sites, which also includes freelance or intern writers.