Driving in flip-flops can be deadly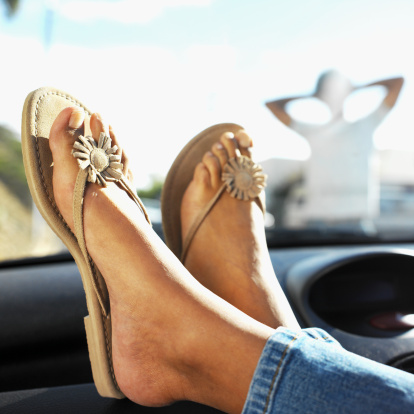 With some hot summer days still left this season, flip-flops may be your shoe of choice until the fall air freezes your toes.
But you may think again, especially when hitting the road, after hearing the results of a recent British survey.
Sheila's Wheels, the insurance company behind the poll, released the frightening findings of the serious dangers flip-flops pose when worn while driving.
The company found that the flimsy footwear results in about 1.4 million close-calls and accidents each year. The company hopes that people will not take these results lightly.
They even say that flips flops are more dangerous to drive in than high heels, making it hard to brake safely. In comparison with high heeled shoes, wearing flip-flops can take double the amount of time to move your foot from the brake pedal to the accelerator.
A third of the 1,055 motorists surveyed said that they wear flip-flops while driving. And 27 percent of them say their flip-flop shoe choice has warranted some type of misfortune or accident.
Another scary statistic finds that one in nine women confess that their flip-flop has been caught underneath the pedal while in drive. Under driving simulators, the company found that flip-flops actually can slow a person's break time by about .13 seconds.
Many people, one in five, said they never would have thought their shoe choice could affect their safety while driving.
"It's worrying that so many drivers out there do not realize the impact their footwear choices can have on their safety at the wheel," said Sheila's Wheels spokeswoman, Jacky Brown, in a statement.
"Millions may think they can drive safely but may not realize the shortcomings of the flip-flop until it's too late – putting themselves, their passengers and other drivers at risk every time they get in the car," Brown added.
Related Posts
Comments
About the Author
Sarah Scroggins, health enews contributor, is the director of social media at Advocate Aurora Health. She has a BA and MA in Communications. When not on social media, she loves reading a good book (or audiobook), watching the latest Netflix series and teaching a college night class.