Second chance at life after ovarian cancer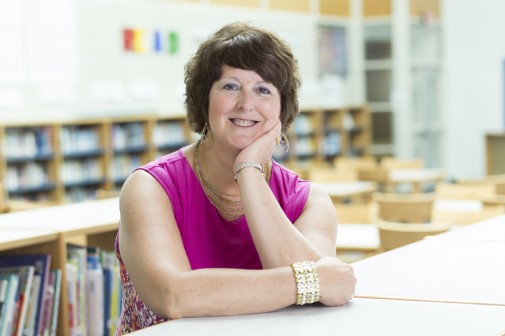 When 52-year-old Ellen Mytnik noticed her ankles and feet had swollen after hosting a holiday party in December 2011, the Shorewood, Ill., substitute teacher chalked it up to overworking herself. But when she began to gain weight despite her hourlong evening walks with husband Donald, she knew something wasn't right.
A CT scan showed a potentially cancerous mass growing in Mytnik's abdomen. After further tests, Mytnik was diagnosed with ovarian cancer.
Mytnik's physician, Dr. M. Patrick Lowe, a gynecologic oncologist with Advocate Medical Group, recommended that she have surgery to be followed by chemotherapy.
As part of her post-surgery treatment, Dr. Lowe recommended a groundbreaking therapy called intraperitoneal chemotherapy. This approach delivers chemotherapy both directly into the abdomen and intravenously.
In February 2012, during a four-hour surgery, Dr. Lowe and his team successfully removed a 25 cm tumor (nearly 10 inches). The procedure, called optimal cytoreductive surgery, removes all visible evidence of cancer from the abdomen at the time of surgery. This type of surgery is associated with the best survival outcomes when combined with aggressive postsurgical chemotherapy, says Dr. Lowe.
After the surgery, Mytnik, one of the first to be given intraperitoneal chemotherapy at Advocate Christ Medical Center in Oak Lawn, Ill., received six cycles of the new therapy.
Several recent studies have demonstrated improved survival rates as compared to intravenous chemotherapy alone. This approach has become the standard of care for most gynecologic oncologists in the United States, says Dr. Lowe, who has been providing this form of chemotherapy since 2005.
Ovarian cancer is the fifth leading cause of cancer-related deaths in the United States, according to the American Cancer Society. Despite that sobering statistic, Dr. Lowe, who specializes in the management of ovarian and other gynecologic cancers at Advocate Christ Medical Center, says studies show that a majority of U.S. women do not receive treatment for ovarian cancer from a board-certified gynecologic oncologist or receive standard-of-care chemotherapy treatments after surgery, which has a negative impact on overall survival.
"An experienced team is required to treat these cancers," says Dr. Lowe. "It's a coordinated effort with the goal of performing the most appropriate surgery and providing state-of-the-art chemotherapy for each patient," he explains.
Today, Mytnik is fully recovered, with no evidence of the disease and no long-term side effects of the surgery or chemotherapy, says Dr. Lowe. And she missed only three weeks as a substitute teacher in Minooka, Ill.
This past June, she attended Christ Medical Center's annual cancer survivors' luncheon for the second time with her family.
"To see this group of one-year to 30-year plus survivors reminds you that cancer is now a treatable and beatable disease,"Mytnik says. "I'm very glad I found a doctor and hospital I could trust and feel comfortable with."
Related Posts
Comments
About the Author
health enews staff is a group of experienced writers from our Advocate Health Care and Aurora Health Care sites, which also includes freelance or intern writers.