Moving on from a breast cancer diagnosis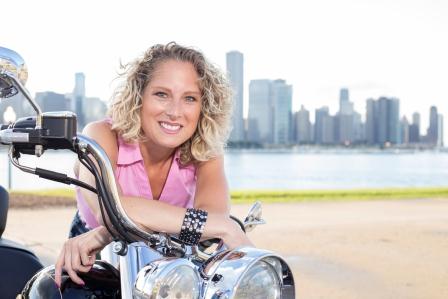 Jamie Juliano found a lump in her breast in March of 2011. At only 37 years old, and with a bubbly and adventurous personality, she was busy enjoying her life, which included exercising, working at her job and riding with her boyfriend on his Harley Davidson. 
Breast cancer may have been the furthest thing from her mind, but, by August, a mammogram and biopsy brought that thought front and center. In fact, she and her boyfriend were out riding the Harley the day she learned of her diagnosis.
Originally diagnosed at another hospital, Juliano's boyfriend's father, a retired reconstructive plastic surgeon, strongly recommended a second opinion. Juliano made an appointment with Barbara Krueger, MD, medical director of the breast cancer program at Advocate Christ Medical Center. "We got in to see Dr. Krueger the next day," Juliano says. "We'd heard great things about her, and I just knew I was going to get awesome care."
Although Juliano's cancer was confined to one breast, it turned out to be more extensive and aggressive than was indicated in her original diagnosis, which made a mastectomy necessary. Juliano opted for a bilateral mastectomy (removal of both breasts).
According to Dr. Krueger, "A bilateral mastectomy reduces further risk in a woman who is not positive for the breast cancer gene to 1 to 2 percent. We can't reduce that risk to zero, but it is a significant risk reduction."
After Juliano's double mastectomy surgery, she completed 16 rounds of chemotherapy, followed by 33 rounds of radiation. She handled the chemotherapy "pretty well," she says, although she didn't feel well enough to exercise as much as she wanted. The radiation proved more challenging as she developed 2nd degree burns on her chest, which, although not painful, meant delaying her reconstructive surgery. A stomach virus led to an infection and more delays, which kept her sidelined from the things she wanted to do just a bit longer. 
Back in Gear
These delays never dampened her spirits, however, and with the worst behind her, Juliano had reconstructive surgery in November of 2012 and then focused on rebuilding her strength and moving on with her life. She now walks six miles almost daily and has just begun lifting weights again to build her strength. Physical therapy helps her to adjust to her new body after the mastectomy and reconstruction surgeries.
Juliano's long-term treatment means she'll take tamoxifen for 10 years and be monitored during twice-yearly visits with her oncologist, Rekha Harting, MD. She sees her plastic surgeon every few months as well, but that will lessen as time goes on. An annual visit with Dr. Krueger will ensure she remains on the path to recovery.
Although many of us still think of breast cancer as an older woman's disease, younger women are not immune. "Younger women should know that every lump should be evaluated," says Dr. Krueger. She also cautions that lumps are not the only sign of breast cancer; breast pain, discharge, skin changes or rashes—even in women in their 20s or 30s—always warrant a closer look.
Now 39, Juliano is looking forward to her future and has recently started a new job.
"They just think of me as Jamie there, not 'Jamie the breast cancer patient,'" she says, adding, "Cancer is a part of me, but I don't want it to define me. It's so nice to be working for a company that just knows me as me."
Advocate Christ Center for Breast Care now offers patients an advanced screening and diagnostic tool called digital breast tomosynthesis which is designed for early breast cancer detection or, as it's often referred to, 3-D mammography. 3-D mammography captures multiple "slices" of tissue making it easier for doctors to see cancer.
For more information on breast health, visit www.Storiesofthegirls.com.
Related Posts
Comments
About the Author
health enews staff is a group of experienced writers from our Advocate Aurora Health sites, which also includes freelance or intern writers.