How weight affects cancer treatment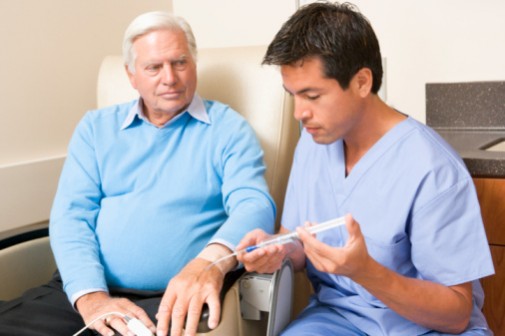 Experts are sparking conversations across the nation on whether or not obese cancer patients are being undertreated by not receiving the right dosages of chemotherapy treatments based on their weight.
The American Society of Clinical Oncology (ASCO) is questioning if these patients are getting doses based on their size or often times being limited due to the ability to withstand a stronger dose.
Some studies find that nearly 40 percent of cancer patients who are obese receive less than 85 percent of the appropriate dosage for their weight.
The ASCO introduced guidelines recommending that physicians provide appropriate weight-based doses to obese patients.
Dr. Gary Lyman, a lead contributor to the guidelines, says that this mandate is about "right-sizing cancer care."
Other experts, including cancer drug chief, Dr. Richard Pazdur of the Food and Drug Administration, agree with the guidelines. Dr. Pazdur, in a statement, said that he believes "by minimizing the dose, or capping the dose, we have been undertreating patients."
The dosage guideline applies to all cancers being treated with chemotherapy.
With more than 60 percent of Americans being overweight or falling in the obese category, these guidelines could impact a lot of people.
According to the American Cancer Society, with more than 100 types used, chemotherapy uses a strong drug to keep cancer from spreading, halt a cancer's growth, kill cancer cells, relieve pain symptoms and help to cure the cancer.
Another expert, Dr. Jennifer Griggs, who helped create the guidelines, said in a statement, that too little chemo "could make it as if they didn't even get treated at all, so they go through the whole ordeal with no benefit, in the extreme case."
Dr. Lyman suggests that if a patient is having issues with a high-dose chemotherapy treatment, physicians can lower the dose and adjust their treatment as needed.
He also recommends that patients talk to their doctors about their treatment plan and discuss whether or not they might receive the full and appropriate dosage.
Related Posts
Comments
About the Author
Sarah Scroggins, health enews contributor, is the director of social media at Advocate Aurora Health. She has a BA and MA in Communications. When not on social media, she loves reading a good book (or audiobook), watching the latest Netflix series and teaching a college night class.