Are you wearing the right size bra?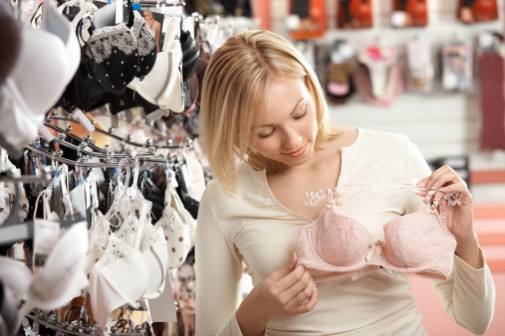 Ladies, we all know bras can be expensive. They can cost anywhere from $15 to well over $100. While it may seem like a lot to fork over every time you need a new bra, wearing the right size bra is beneficial to your health. According to statistics, 80 percent of women wear the wrong size bra.
Experts say that ill-fitting bras can cause a myriad of physical problems for women.
"Wearing the wrong size bra can cause or worsen upper back problems causing muscle tension and sometimes even headaches," says Dr. Sasi Royyuru, family medicine physician with Advocate Medical Group in Bloomington, Ill.
A bra that fits one month may not fit as well the next simply because breasts continually change sizes, she says. As they change, it's crucial to make sure your bra still fits properly. So, if you've had a baby, get re-measured. If you're nursing, get re-measured. If you've lost or gained weight, get re-measured. A good rule of thumb is to get re-measured whenever you're planning on buying a new bra, she adds.
Many lingerie and undergarment stores offer professional fittings. Dr. Royyuru says to not be afraid to ask. It's the job of the salespeople to help you find the best style and proper size for your breasts. They will measure you in the privacy of a fitting room and can do it over a thin shirt if you're uncomfortable. If the idea of having someone fit you is uncomfortable, find your size yourself with a bra size guide.
While wearing a bra does not prevent sagging, there are many benefits to wearing one, she says.
"Bras offer support you need to prevent injury to your breast tissue," Dr. Royyuru says. "This is especially important when you are active and can also help with your posture."
Bra shopping tips
The following tips from Downers Grove, Illinois-based Advocate Health Care's breast health website, Storiesofthegirls.com offers insights on what to look for when shopping for the right size bra.
Know your size or get fitted by a professional.
Try on everything. Choose a wide range of styles and colors to see what suits your style and comfort.
Notice where the strap adjusters sit on your back. They may feel fine in the fitting room, but positioning is important to ensure they don't rub and irritate your skin if you are wearing a backpack or purse.
Test to see if the bra band is too loose by lifting your arms in the air and putting them back down by your sides a couple of times. If the bra rides up across your breasts, the band is too loose.
When shopping for a sports bra, jump up and down a few times to ensure you have good support.
Be sure to put on your shirt or dress over the bra during the fitting to see the finished look. Some of the decorative lace or beading may look pretty when you're shirtless, but can create a lumpy look when covered by clothes.
Make sure you are completely comfortable.
Related Posts
Comments
About the Author
health enews staff is a group of experienced writers from our Advocate Aurora Health sites, which also includes freelance or intern writers.