Are whites at higher risk of irregular heartbeats?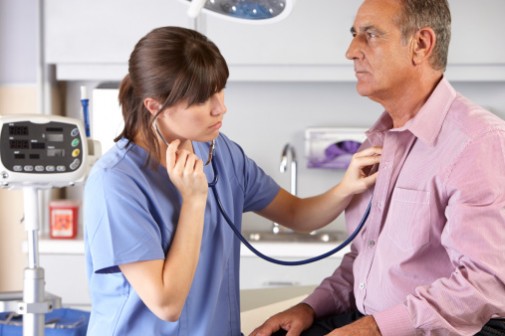 An alarming new study set to be published in the November issue of Circulation shows that whites are much more likely than other ethnic groups in the United States to develop a common heart rhythm disorder known as atrial fibrillation.
The condition is the most common type of arrhythmia, affecting more than two million Americans. It occurs when the upper chambers of the heart—the atria—beat quickly and out of sync. This causes blood to collect in the chamber, where it may clot. Overtime, atrial fibrillation can weaken the heart and raise your risk of heart attack, stroke and even heart failure. Symptoms of atrial fibrillation include shortness of breath, heart palpitations, chest discomfort, dizziness and even fainting.
Research shows that people 40 and older have a 26 percent lifetime risk of developing atrial fibrillation. And according to this study, whites appear to have some specific characteristics that increases their likelihood of developing the abnormal heart rhythm. They say the science points to perhaps a gene, or a set of genes, in the European ancestry that may be linked to an environmental exposure or important behavior in whites that increases their risk.
"We found that consistently, every other race had a statistically significant lower risk of atrial fibrillation compared to whites. So this suggests that the white race is itself a risk factor for atrial fibrillation," said one of the study's lead authors in a news release.
As part of the study, researchers at the University of California, San Francisco collected data from 14 million patients in California between 2005 and 2009. They found that whites were at a 16 percent higher risk of atrial fibrillation than blacks and a 22 percent higher risk than Asian and Hispanic Americans.
The research group says previous research that showed blacks were at lower risk for atrial fibrillation than whites, despite the fact that they have more risk factors for the condition led them to take a closer look at why. Based on several analyses performed as part of the study, it was determined that in this case the risk of atrial fibrillation is not related to any existing cardiac conditions like high blood pressure or existing heart disease.
An interesting finding for sure, but what does it mean in terms of care? We spoke with Advocate Health Care's senior vice president of cardiovascular services, Dr. Vincent Bufalino.
"This is certainly a rather unusual finding," said Bufalino, "Typically other ethnicities are in the high risk range for heart disease because of their increased risk of high blood pressure or diabetes."
Bufalino noted that atrial fibrillation is different because it can affect younger people and seniors with no other forms of heart disease. What's key he said is that people understand that atrial fibrillation can be associated with a stroke. "I recommend patients who experience any "fluttering" in their heart go get it checked out by their physician as soon as possible.
Related Posts
Comments
About the Author
health enews staff is a group of experienced writers from our Advocate Health Care and Aurora Health Care sites, which also includes freelance or intern writers.