Is hair dye bad for your health?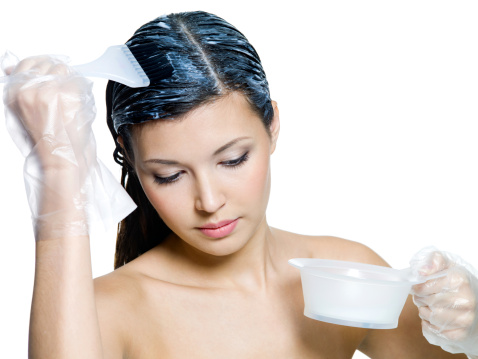 According to the National Cancer Institute (NCI), in the United States and Europe, an estimated one-third or more of women 18 and older and nearly 10 percent of men over the age of 40 dye their hair.
Cincinnati-based hair color company Clairol released a 2008 study revealing that 75 percent of American women dye their hair.
Yet few of these men and women probably realize that hair dye products contain more than 5,000 different chemicals, some of which according to NCI, have been reported to cause cancer in animals.
Before the 1970s, hair dyes were made with chemicals, such as aromatic amines that caused cancer in animals. By the mid- to late 70s, however, some of these chemicals were removed, but it's been difficult to determine whether some of these still cause cancer, according to NCI.
"For the most part, hair dyes are safe to use," explains Dr. Nilam Amin, dermatologist with Advocate Medical Group in Chicago.
"The biggest concern is hair dyes causing allergic or irritant contact skin reactions from one of their ingredients, such as p-Phenylenediamine (PPD), ammonia or bleach. To date, many studies have ruled out a connection between hair dye and many different types of cancer," she says.
The American Cancer Society, however, warns that these chemicals are absorbed in the body through skin contact, which can potentially pose other health risks. Since dyes come in close contact with the skin, they can also produce allergic reactions, skin irritations and in some cases has even been known to cause hair loss.
"Reactions I have seen include swollen eyelids, a rash around the hairline, and redness, flaking and itching of the scalp," Dr. Amin says. "These are usually treated with topical or oral corticosteroid medications and antihistamines."
There are three types of hair dye available on the market:
Permanent or oxidative – penetrates hair shafe
Semi-permanent – doesn't penetrate hair shaft, lasts for 5 to 10 washes
Temporary – doesn't penetrate hair shaft, only covers hair surface, lasts for 1 to 2 washes
Permanent hair dyes, sometimes called coal-tar dyes because of their ingredients, cause chemical changes to the hair shaft and tend to be the most popular since the color lasts until new hair growth occurs. These are the dyes that contain aromatic amines and phenols, which when mixed with hydrogen peroxide cause a chemical reaction and become a dye.
Safety first
If you feel like giving up dye is not an option for you, but you're concerned about its effects, Dr. Amin recommends the following safety tips and precautions when dying your hair:
Do not leave the dye on longer than needed.
Wear gloves when applying the hair dye.
Rinse the scalp thoroughly after using hair dye.
Do not dye eyebrows or eyelashes.
Lastly, she says, "Consult a dermatologist for treatment of a potential reaction from hair dye. One must also consider consultation with an allergist if there are continued reactions to different hair dyes to find the offending agent."
Related Posts
Comments
About the Author
health enews staff is a group of experienced writers from our Advocate Health Care and Aurora Health Care sites, which also includes freelance or intern writers.