Americans ignore calorie count on menus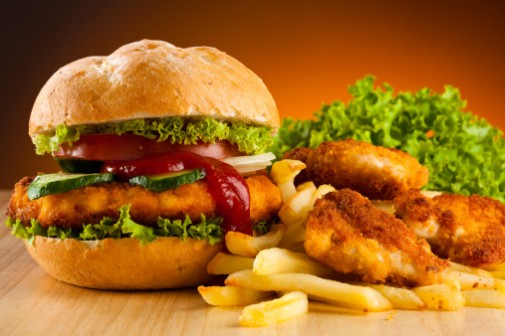 If you ignore the calorie counts posted on fast food menus, you're definitely not alone.
Researchers at New York University report the presence of calorie totals on menus doesn't influence a consumer's choice or decrease the number of calories eaten by fast-food lovers. The findings were given at the Obesity Society's annual meeting.
The subject is timely because one of the tenants of the Affordable Care Act requires that restaurant chains with 20 or more outlets post calorie amounts on all of their menus. The mandate is designed to influence consumers to make healthier food choices.
It doesn't appear to be having the desired effect, study leaders say.
"What we're seeing is that many consumers, particularly vulnerable groups, do not report noticing calorie labeling information and even fewer report using labeling to purchase fewer calories," said study author Dr. Brian Elbel, assistant professor of Population Health and Health Policy at NYU School of Medicine, in a news release.
The study team gathered lunch and dinner receipts for more than 2,000 customers of Philadelphia-area McDonald's and Burger King before and after February 2010. It was in February when the mandatory labeling became law in there.
Each of those 2,000 customers were asked a number of questions regarding their fast-food eating habits and whether they were aware of the calorie totals listed on the menus. If they did notice the signs, they were then asked if the listed totals had any effect on their meal choices.
Just 34 percent of McDonald's customers reported even noticing the calorie counts. Forty nine percent of Burger King eaters said they saw the calorie lists. The results showed there was no change in fast food eating habits among the respondents after the labeling went into effect.
"We found no difference in calories purchased or fast-food visits after the introduction of the policy," said Dr. Elbel. "Given the limits of labeling reported here and in other studies, it's clear that just posting calories is often not enough to change behavior among all populations. We need to consider other, more robust interventional policies in places where obesity is most prevalent."
The labels might not change the habits of fast-food consumers, but it appears an increasing number of people are reducing their intake by their own choice.
Recent data from the Centers for Disease Control and Prevention shows that within the last few years, adults have actually decreased their daily intake of the convenient but not-so-healthy meal option.
From 2007 to 2010, the percentage of fast food daily consumption for adults was about 11.3 percent. Data from 2003 to 2006 showed the percentage was roughly 12.8 percent.
Laura Tarry, fitness specialist at the Advocate Good Samaritan Health and Wellness Center, always recommends that her clients decrease or nix fast food from their regimen completely.
"In order to keep decreasing this percentage, we have to make it a trend and pay more attention to the calorie counts at fast food restaurants," says Tarry. "If you are already taking the time to stop, then you can choose healthier options – such as the local grocery story or deli to pick up a sandwich or salad—quick and easy."
Related Posts
Comments
About the Author
health enews staff is a group of experienced writers from our Advocate Health Care and Aurora Health Care sites, which also includes freelance or intern writers.