Sleep disorder linked to high blood pressure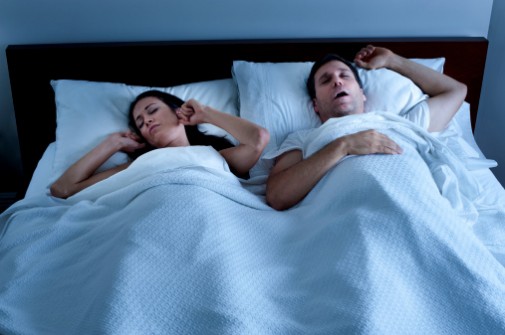 For sleep apnea sufferers, the condition causes more than just a poor night's sleep and exhaustion during the daytime hours. Many people with sleep apnea also have high blood pressure, thereby increasing their risk for heart disease and stroke.
"There is a longstanding association between sleep apnea and high blood pressure," says Dr. Pradip Sethi, neurologist and sleep specialist on staff at Advocate Sherman Hospital in Elgin, Ill. "If someone has been diagnosed with hypertension, they should definitely be screened for sleep apnea and vice-versa."
According to a new study, published in the Journal of the American Medical Association, treating sleep apnea may help lower hard-to-control blood pressure for people who have both conditions. In the study, researchers analyzed 194 patients with hard-to-control high blood pressure and obstructive sleep apnea across 24 teaching hospitals in Spain.
More than 12 million Americans suffer from obstructive sleep apnea, reports the National Heart, Lung and Blood Institute.
"The most common type of sleep apnea I see in a vast majority of patients is called obstructive sleep apnea," Dr. Sethi says. "Approximately 40 percent of people with obstructive sleep apnea have hypertension."
Half of the patients in the study received continuous positive airway pressure (CPAP), the standard treatment for obstructive sleep apnea, for 12 weeks. CPAP delivers pressurized air through a mask that fits over a person's nose and mouth to prevent the upper airway from closing during sleep. The other group of patients was not treated with CPAP and only took their typical blood pressure medication.
Researchers discovered that patients who received treatment for their sleep apnea experienced a greater decrease in 24-hour average blood pressure as well as 24-hour average diastolic blood pressure (measures artery pressure between beats) compared to the control group. In fact, about 36 percent of patients receiving CPAP treatment had a minimum 10 percent reduction in nighttime blood pressure compared to only 22 percent of patients who didn't receive treatment.
For patients who have both health conditions, it appears that obstructive sleep apnea contributes to high blood pressure.
"During the repeated pauses in breathing throughout the night, the oxygen level in the body decreases and repeated awakenings occur," Dr. Sethi explains. "This stimulates the brain and causes heightened sympathetic nerve activity often referred to as the "fight-or-flight" response."
Initially, these mechanisms in the brain are only triggered at night, but eventually linger during the daytime even when breathing is normal. This process is what ultimately leads to hypertension, Dr. Sethi says.
The best course of action if you've been diagnosed with sleep apnea is weight loss, Dr. Sethi says, noting that a majority of patients with this condition are obese. To help manage sleep apnea and the chronic health problems associated with it, treatment options like CPAP are recommended.
"Anyone who has any medical comorbidities that accompany their obstructive sleep apnea diagnosis, such as hypertension, should receive CPAP treatment," Dr. Sethi says.
Related Posts
Comments
About the Author
health enews staff is a group of experienced writers from our Advocate Health Care and Aurora Health Care sites, which also includes freelance or intern writers.