Sitting all day a risky behavior for women?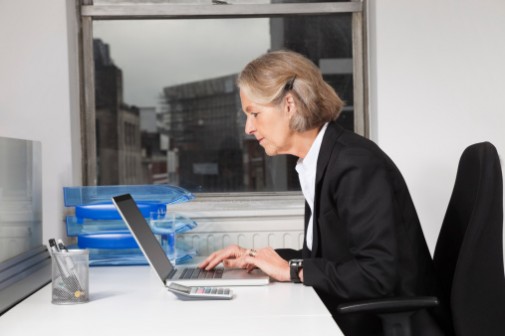 Whether you work in a home office or cubicle, one constant remains the same: sitting for long hours every day. While this may not seem like a risky habit, the reality is that extended sedentary time is wreaking havoc on our health.
A new study, published in the American Journal of Preventive Medicine, finds a link between prolonged sedentary time and early death among older women. Researchers collected data from more than 92,000 U.S. women ages 50-79 over the course of 12 years to determine how their inactivity had a direct impact on their health.
"Everyone knows that they should exercise more, but not everyone is familiar with the notion of 'sitting less,'" says Dr. Vineet Dandekar, Cardiologist with Advocate Medical Group. "We've been told that 30 minutes of daily exercise is enough activity for the day, but this study suggests this is not necessarily the case. 'Sitting less' is a novel concept and one that we'll continue to hear more about."
The results of the study showed that women who were the most sedentary (more than 11 hours of inactivity each day) had a 12 percent higher risk of death compared to the least sedentary group (four hours or less inactivity each day). In fact, women who reported the most sedentary time increased their chances of dying from cardiovascular disease, coronary heart disease and cancer by 13, 27 and 21 percent, respectively. This link proved true, even after adjusting for chronic disease status, overall fitness level, demographics and other factors.
"The most striking factor of this study is that even if a person exercises for those recommended 30 minutes a day, he or she may be counteracting the positive impact with 10 hours of sitting," Dr. Dandekar says. "The reality is that continuous daily sedentary behavior has a major impact on our health."
How does sedentary time play such a significant role in our health? According to Dr. Maciej Malinski, cardiologist with Advocate Medical Group, inactivity for long periods of time can lead to metabolic changes including insulin resistance and higher blood sugar levels. In contrast, our body metabolizes glucose more effectively during physical activity.
Other studies have found an association between a more active lifestyle and a longer life. For example, a recent study of nearly 3,900 Stockholm men and women determined that consistent sitting time has negative consequences when it comes to heart health.
"Similar studies have been done on this topic and the message is the same—people will decrease their risk of death from cardiovascular causes by physical activity," Dr. Malinski says. "The truth is that many people underestimate the benefits of just 20 minutes a day of ongoing physical activity."
To counteract the negative impact of sitting for long hours, both Dr. Malinski and Dr. Dandekar recommend being active frequently throughout the day – even short 10-minute bursts of physical activity can make a difference.
"To increase daily activity, I recommend taking the stairs instead of the elevator and taking frequent walking breaks at home or at the office," Dr. Dandekar says. "During the wintertime, I encourage many of my patients to walk around the mall if gym memberships are cost prohibitive. These are all active steps people can take to increase their activity level."
Related Posts
Comments
About the Author
health enews staff is a group of experienced writers from our Advocate Health Care and Aurora Health Care sites, which also includes freelance or intern writers.