Treatments for young patient's heart defect helps her live fuller life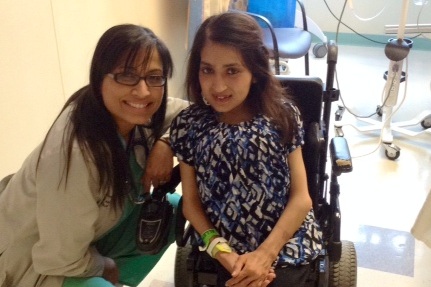 Buthul Hussaini may be 26-years-old, but to her doctors at Advocate Children's Hospital in Oak Lawn, Ill., she's still just a kid at heart.
Buthul, a special education teacher, was born with a congenital heart defect. She is just one of the nearly 36,000 people in the United States born with a heart defect, annually, according to the American Heart Association.
Buthul's condition, called aortic stenosis, happens when the valve pumping blood from the heart to the rest of the body is narrowed, restricting blood flow and causing complications.
She underwent several procedures as a child, but in her mid-20s she needed surgery again – this time to receive a mechanical heart valve. Buthul spent more than two months in the hospital.
"With the help of the doctors, nurses and other staff here, I have been making good progress," Buthul says. "My kidney, heart and lungs have improved."
At Advocate Children's Hospital, the adult congenital heart center treats patients, like Buthul, providing a seamless transition in care from childhood and adolescence into adulthood.
As technologies and surgical techniques become more advanced, an increasing number of children with defective hearts are surviving into their adult years.
"Patients born with heart defects and treated for these conditions as children often have ongoing cardiac care needs as adults," says Dr. Melissa Nater, pediatric cardiologist at Advocate Children's Hospital. "The heart anatomies of these patients and the problems that result from their heart defects are not familiar to adult heart specialists."
Dr. Nater says that pediatric heart surgeons and cardiologists treat congenital heart patients of almost any age — from newborns to adults, even in their 40s and 50s.
For Buthul, she will require anticoagulant medications (blood thinners) to prevent clots from forming in her mechanical heart valve. But, Dr. Nater said that she expects her new valve to last "long term."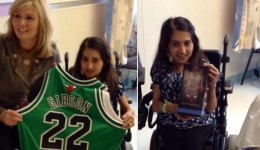 Buthul, a devoted Chicago Bulls fan, recently received a special surprise when Bulls basketball player, Taj Gibson, stopped by her hospital room during a visit to Advocate Children's Hospital. After the visit, Gibson was so touched by Buthul's spirit, the Bulls sent her a special package, including an autographed jersey and a backpack filled with Bulls gifts, including a cap, program book and t-shirt.
With her positive attitude and support from her family and friends, Buthul has high hopes of returning soon to her teaching duties and her students.
Click here to see a special video with Buthul. And to learn more about heart care services for kids at Advocate Children's Hospital, click here.
Related Posts
Comments
About the Author
Julie Nakis, health enews contributor, is manager of public affairs at Advocate Children's Hospital. She earned her BA in communications from the University of Iowa – Go Hawkeyes! In her free time, she enjoys spending time with friends and family, exploring the city and cheering on the Chicago Cubs and Blackhawks.