Patient gives heartfelt thanks on Valentine's Day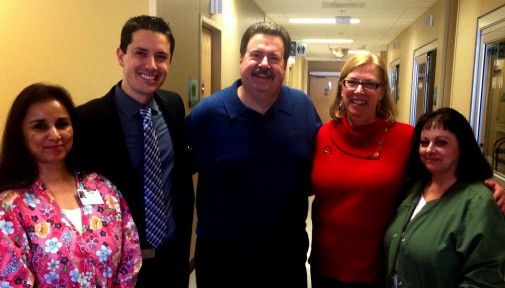 Last Valentine's Day, Elgin resident Jim Whetstone found himself in the emergency department at Advocate Sherman Hospital in Elgin, Ill., ready to undergo surgery to remove blood clots in his left and right main pulmonary arteries.
Today, on Valentine's Day, Jim and his wife, Bonnie, were back in the ED but for a very different reason. To show their appreciation for the care Jim received from Sherman's emergency room and critical care nurses and physicians, the couple brought heart-healthy Subway sandwiches for lunch.
"We figured most people don't take the time to say thanks," Jim says. "These people saved my life – the least we can do is bring them lunch."
A year ago today, Jim was experiencing anxiety, difficulty breathing and chest pain. He drove himself to the emergency room and was seen by Dr. Steven Zahn, Medical Director of the Emergency Department at Advocate Sherman Hospital. Initial tests were inconclusive, so Jim and Dr. Zahn kept probing.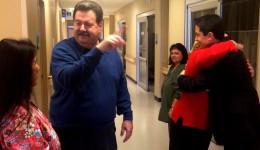 "The test results weren't matching up with Jim's explanation of how sick he was feeling," says Dr. Zahn. "With Jim's persistence and my active listening, we arrived at the diagnosis that saved his life."
A CT showed large clots in both his right and left main pulmonary arteries, which are called Saddle Pulmonary Embolism. Jim underwent surgery with Dr. George Behrens, interventional radiologist at Sherman Hospital. Dr. Behrens used an interventional approach to remove the clots by inserting small catheter tubes into the arteries and using a clot-busting medication called tPA to dissolve the clots. Jim was in the hospital for about a week to get his Coumadin levels under control before returning home.
Over the past year, Jim has made significant changes to his lifestyle and diet. He's logged more than 500 miles of bike riding and 1200 miles of walking, resulting in a 36-pound weight loss.
"Jim keeps punching more holes in his belt to make it smaller," Jim's wife, Bonnie, says. "He won't buy a new one – he says this one is his 'badge of honor'."
But most of all, both he and Bonnie have a new outlook on life and don't take any day – especially Valentine's Day – for granted.
"We try to live each day to its fullest," Jim says. "We've always told each other that we love each other, but it's even more important now."
Jim and his wife Bonnie talk about how this experience has changed their outlook on life and the meaning of Valentine's Day. Click here to watch the video.
Related Posts
Comments
About the Author
Tonya Lucchetti-Hudson, health enews contributor, is public affairs director for Advocate Medical Group and Advocate Physician Partners.