4 secrets to never getting sick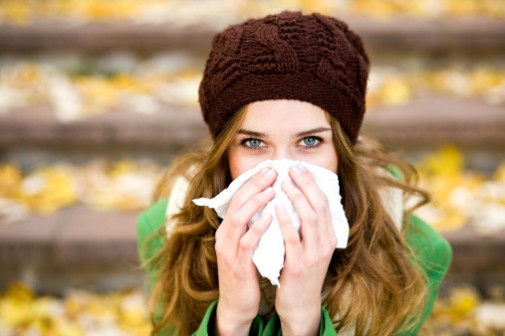 Even before the trees change, you can already tell fall is right around the corner. Football is back, everything tastes like pumpkin, and almost everyone you know is coming down with the common cold. The average adult gets two to four colds per year, mostly between September and May, according to the American Lung Association. In fact, colds account for more visits to the doctor than any other condition. So, to help you beat back the common cold, here are four simple steps to boost your virus protection.
#1: Wash away the germs
Let's start with the most obvious—clean hands. The cold and flu can spread all too easily through touch. That's why it's important to avoid close contact with people who have a cold, especially during the first few days when they are most likely to spread the infection. But, if you must be in contact with someone with a cold, wash your hands after them and after touching an object that person has touched. It is especially important to keep fingers away from your eyes, nose and mouth, and it doesn't hurt to master the art of hand-washing too. In fact, the Centers for Disease Control and Prevention say soap and water are the most effective tools for preventing the spread of germs.
#2: Take a breath of fresh air
You hear it every winter. Stay indoors where it's warm and toasty because cold air can wear on your immune system. Sounds reasonable, right? Well, problem is, being inside puts you in close constant contact with other people—and their germs. Experts say a stroll outside in the fresh air can give you not only a break from all those germs circulating inside, but can actually boost your immunity. "Exercise leads to an increase in natural killer cells, which ultimately increases immune function," says Dr. Sonora Nelson, family practitioner for Advocate Trinity Hospital in Chicago.
#3: Chill out
There are a million reasons why taking time to chill out might be the last item on your to-do list, but it should be a priority. Being stressed can increase your susceptibility to catching a cold because stress hormones impede your body's ability to trigger a disease-fighting response from your immune system. "You're also less likely to take care of yourself—get ample sleep, eat right, exercise—when you're stressed," says Dr. Nelson, which is crucial to upping your immunity.
#4: Zzzzz…
A continuous lack of sleep can hamper your immune system's ability to function. Though experts often say that sleep requirements vary by individual, a Carnegie Mellon study found that anything short of seven hours nearly triples your odds of catching a cold. According to the study, people who missed out on shuteye for as little as 8 percent of the time they were laying in bed were five-and-a-half times more likely to get the sniffles than those who slept throughout the night.
Related Posts
Comments
About the Author
health enews staff is a group of experienced writers from our Advocate Aurora Health sites, which also includes freelance or intern writers.