A mother's miracle saves baby's life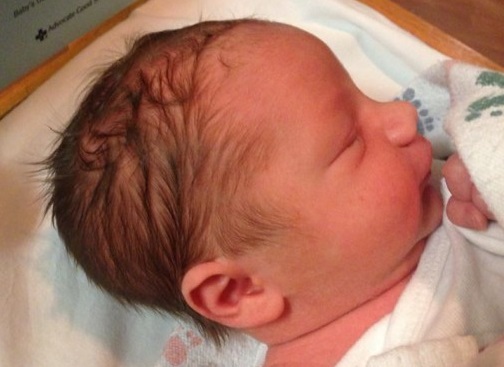 March 1, 2014, is a day Lisa Krestan will never forget.
It started out as a quiet night as Krestan and her husband finished up dinner and were preparing the nursery. Baby Dylan wasn't due for a few more weeks, so they were wrapping up the rest of their responsibilities when the baby kicked causing Krestan's water to break.
"I was shocked," says Krestan. "I didn't realize that the baby could do that, so I rushed to the phone and called my doctor."
A few weeks prior, Krestan learned that the baby was breech, so she wanted to take all necessary precautions before heading to the hospital.
While in the bathroom, she noticed something wasn't right.
"At that moment, I was concerned for the safety of my baby," Krestan says. "I quickly called my doctor and then called 911."
Her physician, Dr. Daniel Pasevanto, an obstetrician and gynecologist at Barrington, Ill.-based Advocate Good Shepherd Hospital, knew right away that she was experiencing a prolapsed umbilical cord. Time was of the essence.
"The cord, which can drop through the open cervix and descend into the vagina, is an extreme medical emergency that is very rare," Dr. Pasevanto says. "I knew she needed to get to the hospital as quickly as possible and deliver that baby immediately."
As the ambulance rushed to the hospital, paramedics elevated the expectant mother's hips and applied pressure away from the baby. Krestan was instructed to tell the paramedics when she was having contractions so they could prevent the cord from compressing on the baby.
"The umbilical cord can wrap around the baby's head and the pelvis cutting off the oxygen and blood flow to the fetus," says Dr. Pasevanto. "Performing an emergency cesarean section is the best treatment."
Krestan made it to the hospital at 9:30 pm that night and was quickly welcomed by the physician, emergency room staff, obstetric nurses and public safety officers.
"I was amazed by the teamwork and the rapid responsiveness from everyone," says Krestan. "I felt like a VIP patient with all the care and attention I received that night."
At 9:37 p.m., Dylan John Krestan was born at 7 pounds, 7 ounces, and 20 inches.
"Looking back, I'm so thankful for the amazing staff that helped to deliver baby Dylan healthy and happy," Krestan says. "He is truly a miracle and I'm blessed that everything turned out OK."
Communication is key for expectant mothers.
"Communication with your physician is very important," adds Krestan. "If your baby is breeched, discuss with your doctor all the possible scenarios. Understanding what can happen and what you can do will help minimize anxiety and help mothers-to-be become better prepared."
Related Posts
Comments
About the Author
health enews staff is a group of experienced writers from our Advocate Health Care and Aurora Health Care sites, which also includes freelance or intern writers.