'Sesame Street' introduces its first Muppet with autism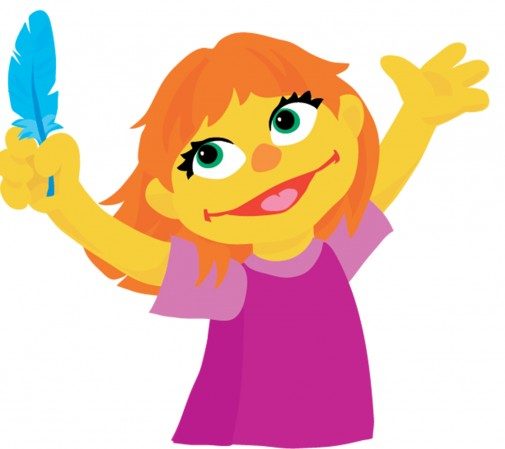 Julia, a character with autism, recently made her debut on Sesame Street, a move lauded by advocates who say the orange-haired Muppet will raise awareness of autism and other developmental disorders.
When longtime favorite character Big Bird meets Julia, he laments that it doesn't seem like she likes him because she fails to make eye contact and doesn't respond to his request for a high five. The adult human character, Alan, explains that Julia has autism.
"What's autism?" Big Bird asks.
"For Julia, it means she might not answer you right away," Alan replies. "And she may not do what you expect, like give you a high five."
Fellow Muppet Abby Cadabby adds: "Yeah. She does things just a little differently."
Sesame Street introduced the Julia character online two years ago a part of its "Sesame Street and Autism: See Amazing in All Children" campaign. The TV debut took place April 10.
Dr. James Weedon, Division Director for Developmental Pediatrics at Advocate Children's Hospital, praises the show for addressing this difficult and wide-spread issue.
"Highlighting autism spectrum disorder on such a popular, highly respected and educationally focused program helps to demystify and bring awareness about the disorder," he says.
The character's storyline benefits both children who've been diagnosed with autism spectrum disorder and their classmates, Weedon says.
"Having Julia as a character with autism spectrum on Sesame Street will bring increased understanding and an example of how all children can be friends despite their differences," he says. "And she provides children with autism spectrum a chance to identify with a character that may talk, interact, or play like they do as well as share similar challenges."
One in 68 school-aged children have autism, according to the Centers for Disease Control and Prevention. Yet while the diagnosis is common, public understanding of autism is not, according to the creators behind Sesame Street's campaign. That lack of understanding makes life even more difficult for children with autism, who are more likely to be bullied by their peers. Sesame Street hopes their resources will offer families "ways to manage common challenges, to simplify everyday activities and to grow connections and support from family, friends and community."
Related Posts
Comments
About the Author
Lisa Parro, health enews contributor, is manager of content strategy for Advocate Aurora Health. A former journalist, Lisa has been in health care public relations since 2008 and has a master's degree in journalism from Northwestern University. She and her family live in Chicago's western suburbs.