Limit device time to avoid this developmental delay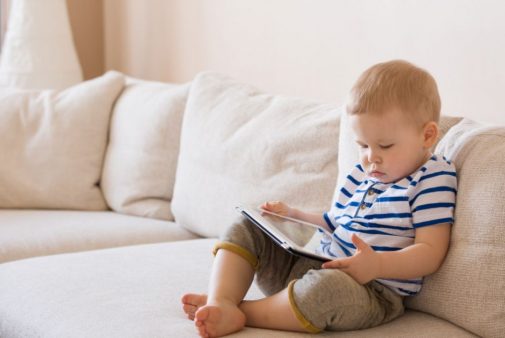 Young children who frequently spend time on mobile devices are more likely to have speech delays, according to a new study out of Toronto. Results show that the more time children under the age of two years spent using tablets, smartphones and other mobile devices, the more likely they were to show signs of speech issues.
Researchers examined the amount of time that a group of nearly 900 children between the ages of six months and two years spent using small screens. Then, they assessed the kids' language development, monitoring factors such as whether the children used sounds or words to get attention and how many words they use in a conversation.
Results showed that by 18 months of age, 20 percent of the children were already using handheld devices for almost 28 minutes a day. This group of screen-savvy children was more likely to score very low on the study's speech assessment questionnaire, indicating significant speech delays.
The researchers dug deeper and found that every 30 minutes of additional mobile screen time indicated a 49 percent increased risk of "expressive speech delay," a broad diagnosis meaning that a child is having trouble using language in some way, shape or form. However, results showed no link between the use of handheld devices and other areas of communication such as body language and social interaction.
"These are very compelling results that build on evidence we already have that excessive screen time, in general, can affect young children's development," says Dr. Yazen Joudeh, a pediatrician on staff at Advocate South Suburban Hospital in Hazel Crest, Ill. "Interacting with people, not devices, is crucial for very young children as they set a foundation for learning how to effectively communicate."
The American Academy of Pediatrics (AAP) recommends that children under 18 months avoid viewing screen media other than video-chatting. And, it advocates that parents prioritize creative, unplugged playtime for infants and toddlers.
"It is in the best interest of a young, developing child to limit their electronic device to brief, parentally supervised, periods of time," says Dr. Joudeh. "And parents need to be conscious of not letting their children wander alone for hours on a device."
The AAP also advises parents to restrict screen-watching of 18-24 month olds to "high-quality programming," during times when parents are available to explain the programs.
"Parents should consider working with their pediatricians to establish healthy guidelines for all kinds of screen time," says Dr. Joudeh. "Development happens at a very rapid rate under the age of 2, and we want to be sure that children have no obstacles to normal, healthy growth."
Related Posts
Comments
About the Author
Nate Llewellyn, health enews contributor, is a manager of public affairs at Advocate Medical Group. Nate began his career as a journalist and builds daily on his nearly 20 years of writing experience. He spends most of his free time following his wife to their two sons' various activities.