Are your kids safe around this?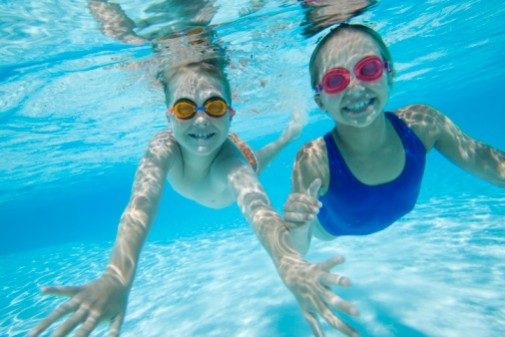 As summer heats up, parents and children just want to cool down – often around a lake, ocean or swimming pool. While trips to your local watering hole make for fun-filled days, they can turn dangerous and potentially deadly if precautions aren't taken.
Toddlers who aren't aware of how to be around water safely or know how to swim are most at risk for water-related accidents and deaths. Nearly 1,000 children die each year from drowning, and it is the leading cause of injury-related death in children ages 1 to 4-years-old.
"Most drowning in kids under the age of four years has happened in home swimming pools, at their own home or at the home of a friend or neighbor," says Dr. Jennifer Thomas, a pediatrician with Aurora Health Care in Franklin, Wis.
For toddlers, water safety extends beyond pool time. Bathtubs, wading pools and water containers are all risks to little ones who can drown quickly and silently in as little as one or two inches of water. Dr. Thomas says babies should never be left alone near water, and children should never be left unsupervised in a bathtub to help prevent this. Empty water from bathtubs, wading pools, large pet bowls and other containers immediately after use, and keep toilet lids down with a child safety lock on them to prevent kids from falling in head first.
"If even a small amount of water covers their face, they may have difficulty breathing," says Dr. Thomas. "Most child drownings inside the home occur in bathtubs, and more than half of bathtub deaths involve kids under a year of age."
After toddlers, teenagers have the second-highest fatal drowning rate of any age group.
"Teenagers are more likely to overestimate their skills and underestimate dangerous situations. They should learn how to swim and should swim with a friend or in places where there is a lifeguard," says Dr. Thomas.
Stay safe in the water!
Invest in swim lessons: The American Academy of Pediatrics recommends the whole family learn to swim and to start swimming lessons at one year. Consult your pediatrician about determining if and when your child is ready to begin.
Use life jackets: Children should always wear US Coast Guard approved life jackets when in or near natural bodies of water and near or in pools or water parks if their swimming skills are lacking. Make sure the life jacket fits appropriately.
Designate a supervisor: Designate an adult to be the "water watcher" to supervise kids near water without any distractions. Rotate the responsibility within the group every 15 minutes.
Block off backyard pools and hot tubs: One of the easiest ways to prevent drowning is to block access to water. Fence off water areas and add additional protection like pool covers and alarms on pool gates.
Know safety techniques: Parents, caregivers and older children should learn CPR in case of emergency.
Avoid alcohol: "Everyone should stay sober on the water since alcohol increases drowning risk," says Dr. Thomas.
Related Posts
Comments
About the Author
Colette A. Harris, health enews contributor, is the public affairs and marketing coordinator at Advocate Lutheran General Hospital in Park Ridge, Il. She holds a Master of Science degree in journalism from Northwestern's Medill School of Journalism and has nearly a decade of experience writing about health and wellness, which are her passions. When she's not writing, you can find her practicing yoga, cooking, reading, or traveling.