Could a vaccine lower diabetes risks?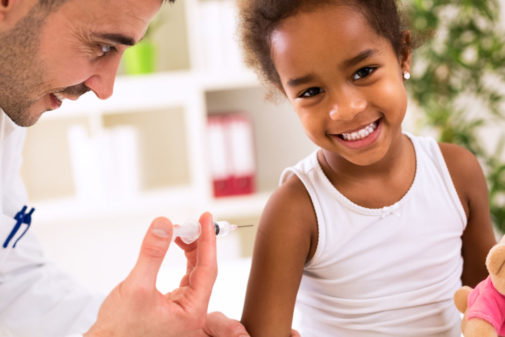 According to the American Diabetes Association, over one million Americans have Type 1 diabetes. Previously known as juvenile diabetes, Type 1 diabetes is usually diagnosed in children, teens and young adults and is lifelong.
However, a new study may offer hope for newborns who might be at risk for developing the autoimmune disease.
Research out of the University of Michigan has shown signs that a common vaccine against rotavirus also can reduce risk of Type 1 diabetes. They are recommended for infants in their first months of life, then continued over time until they are complete by their eighth month.
"The study was observational but demonstrated a significant link between the pentavalent RotaTeq vaccine and a decreased occurrence of Type 1 diabetes," says Dr. Mary Kathleen Heneghan, a pediatric endocrinologist at Advocate Children's Hospital in Park Ridge, Ill. "I believe that this is possible as the rotavirus vaccine is working to prevent a viral infection, and studies have shown how destruction of pancreatic cells can increase with certain gut viruses."
Lab studies have revealed a correlation in how rotavirus attacks similar cells impacted in those with Type 1 diabetes. Additional studies concluded that children who received the complete series of rotavirus shots, which includes three doses of the pentavalent form, RotaTeq, saw an especially lower risk of Type 1 diabetes, as much as 33% on average.
While these new developments are still being observed, doctors are watching closely with hope for the future.
"It can be difficult to track the signs of prevention as the vaccine is given as an infant and a significant time must elapse before a decrease in diabetes diagnoses would be seen, but it is very promising," Dr. Heneghan says. "A question that is raised is if children should be re-immunized with this vaccine later in childhood and if this would help prevent or delay diagnosis of diabetes later in life."
For now, there is no known cure for Type 1 diabetes. Parents of children with this disease can help manage it by providing healthy meals and administering the proper medications. Doctor instructions should also be followed closely to avoid any complications.
Related Posts
Comments
About the Author
Latoya Campbell, health enews contributor, is a Public Affairs Coordinator at Advocate Aurora Health. She has a BS degree in Communications/Broadcast Journalism from the University of Illinois Urbana-Champaign and previously worked in digital and graphic marketing for a public library. She enjoys spending time with her family and friends, fitness activities and a good spa day.