From forehead kisses to final wishes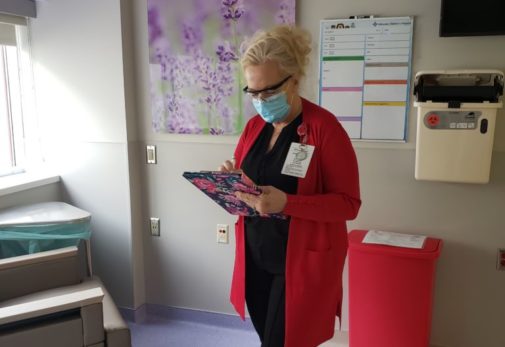 As health care workers, we're trained to be prepared for the worst. But this year has presented us with struggles none of us could've ever anticipated.
My name is Diane. I'm a care manager in the pediatric cardiac intensive care unit at Advocate Children's Hospital in Oak Lawn. My role involves face-to-face interaction with families on a daily basis. That is, until COVID-19 changed everything.
I love our patients. So much so that I used to be known as the "kissing nurse" because I gave all the babies a big red kiss on the forehead. That is something I miss horribly.
COVID has not only changed our practices and protocols. It's eradicated some of our most intimate moments with patients and families. The compassion and love we have for our patients is just as important as the medical care we provide.
But we're not letting go of any of it. We just come up with creative alternatives. I now draw big red lips on the outside of my masks to let parents know I'm still sending the same message but in a different way.
Our patients feel like our own children, and their families our own. We celebrate victories right alongside them, and we hurt when they do.
One patient who lies heavy on my heart is a teenager who was in severe respiratory and cardiac failure, which then led to kidney failure. He was being maintained on a ventilator and had asked that nothing more be done to him. Along with the palliative care team and our cardiac intensive care team, I made sure this patient received his final wish of going home.
Within just 20 minutes of arriving home, surrounded by family members and with his cat snuggled in his lap, the patient passed away. Despite the tragic outcome, his parents were grateful this occurred the way their son wanted.
I'll never stop advocating for our patients and families and making sure we do everything we can for them. Whether it's a socially distanced "kiss" on the forehead or working against the clock to help a child in their final moments, I'll do whatever it takes.
Diane Clifton is a care manager in the pediatric cardiac intensive care unit at Advocate Children's Hospital – Oak Lawn.
Related Posts
Comments
About the Author
Holly Brenza, health enews contributor, is the public affairs coordinator at Advocate Children's Hospital. She is a graduate of the University of Illinois at Chicago. In her free time, Holly enjoys reading, watching the White Sox and Blackhawks, playing with her dog, Bear and running her cats' Instagram account, @strangefurthings.