From the 'verge of giving up' to becoming self-sufficient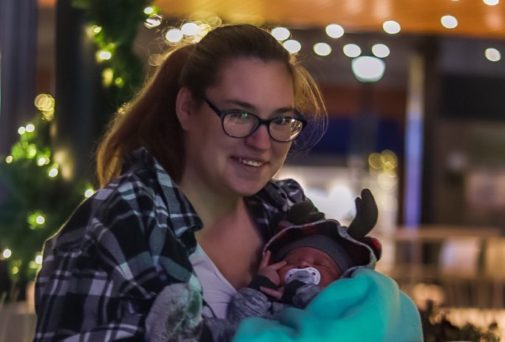 At five months pregnant, Alexandra found herself homeless and in an abusive relationship with nowhere to turn.
"At one point, I was sleeping in my truck. My child's father threatened to kill me numerous times. I feared for my life as well as my unborn child's," she shared. "I was on the verge of giving up."
Then Alexandra's doctor referred her to the Aurora Healing & Advocacy Services Safe Mom Safe Baby program, which supports pregnant women and new moms whose lives have been affected by domestic violence. Through access to comprehensive care and community resources, the program improves the health and safety of the mother and her baby.
"I met with Andrea Grant, the nurse case manager and shared my story. Andrea signed me up for the Safe Home Environment (SHE) program, which provided a safe place for me to live," said Alexandra. "It alleviated a lot of worry and stress that allowed me to focus on my pregnancy. It gave me the new start I needed during an extremely difficult time in my life."
The support didn't stop there. "I was introduced to another amazing woman," she said. "Shirley Combs provided the love and guidance that I lacked in my life. She inspired me to create a better life for myself and baby."
Combs is a Healing Volunteer Coordinator. Part of her role is working with mothers on setting goals and making lifestyle changes.
"I also coordinate monthly room visits to ensure both mom and baby have safe living conditions," explained Combs. "And I work to create a culture of mutual respect and on building healthy relationships."
Together with Andrea, the nurse case manager, they ensure moms and babies are connected to medical care and safe sleeping habits, including a pack 'n play.
Alexandra's son, Elliot, was born on October 30, 2020. Both she and her son are doing well.
"Thanks to the SHE program, Safe Mom Safe Baby, and the awesome ladies at Aurora Healing & Advocacy Services, I'm on my way to becoming self-sufficient!" shared Alexandra.
How you can help
Donor support is critical to Aurora Healing & Advocacy Services. All of its services – from safe housing to counseling to care coordination – are provided at no cost to mothers. Programs like Safe Mom Safe Baby and Safe Home Environment only exist because of the generous support of donors.
"Gifts ensure that domestic abuse survivors have access to the critical care and support that they need," Combs said. "Together we help improve the health and safety of the mother and her baby."
Please consider making a gift to support mothers like Alexandra and their children. To learn more about Aurora Health Care's healing services, visit us online.
Related Posts
Comments
About the Author
Tami Hughes is a public affairs coordinator for Advocate Aurora Health. She attended college at the University of Miami and loves watching her Hurricanes play just about anything. She enjoys cooking and going to concerts with her husband. Her heart is made happy by her children, Neenah and Jack, and her dog child, Rizzo.