New baby? Here's how to navigate visitors during these times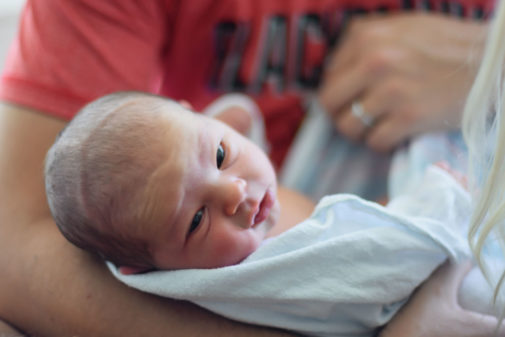 Now that the COVID-19 vaccine is available for individuals 12 years of age and older and restrictions are changing or being lifted, many people are beginning to feel comfortable reconnecting in person with family and friends.
But parents of newborns might be a little more cautious. What's the best way to keep baby safe?
Dr. Michael Cappello, vice chair of pediatrics at Advocate Children's Hospital – Park Ridge and a neonatologist, shares his recommendations.
"COVID-19 pandemic or not, a parent of a newborn should be extremely careful because a baby's immune system is immature," he says.
Dr. Cappello explains that when a baby under 6-8 weeks of age gets a fever, they are at increased risk for serious bacterial infections and will typically be admitted to the hospital for a complete evaluation including a spinal tap and antibiotics. This is why it's critical to protect a baby as much as possible during this vulnerable time.
He offers the following tips to help new parents navigate handling the influx of requests to meet the new baby.
Limit the number of visitors: As much as possible, limit the amount of people around your newborn. This is a general rule whether or not we are living through a pandemic as it's not possible to know who or what someone has been around or exposed to. Utilizing the pandemic practice of maintaining a "bubble" is still a viable option for helping to mitigate risk.
Don't be afraid to make requests: It can feel uncomfortable, but lay out your expectations of visitors so you feel more at ease and everyone is on the same page.
Proper hand hygiene is a must. Lathering the backs of hands, between fingers and under nails and then scrubbing hands for at least 20 seconds is the guidance from the Centers for Disease Control and Prevention.
Don't hesitate to ask visitors to wear a mask.
Anyone who is symptomatic in any way (COVID or otherwise) should not be around a newborn.
Individuals coming from an area with a high number of COVID cases should not be visiting.
Those in close contact with your newborn should be up to date on vaccinations, including Tdap, which protects against whooping cough, a potentially fatal illness in infants and children.
What if a visitor isn't vaccinated against COVID-19? Vaccination certainly improves our ability to safely be around others. There is strong evidence that being vaccinated decreases the likelihood of asymptomatic infection or transmission. It isn't 100%, but it is very promising. And while children who get COVID-19 tend to not get sick, those who require hospitalization often are quite ill requiring respiratory support and, in many cases, admission to a pediatric intensive care unit.
Virtual visits with a newborn are the safest for individuals who have not received the COVID-19 vaccination. However, if it is decided that an unvaccinated individual is to visit in person, the ideal situation would be outdoors, greater than six feet apart and wearing a mask.
Ultimately, whether or not someone is vaccinated, they should be practicing proper hand hygiene and limiting hugging and kissing to prevent the spread of illness.
Related Posts
Comments
About the Author
Holly Brenza, health enews contributor, is the public affairs coordinator at Advocate Children's Hospital. She is a graduate of the University of Illinois at Chicago. In her free time, Holly enjoys reading, watching the White Sox and Blackhawks, playing with her dog, Bear and running her cats' Instagram account, @strangefurthings.