Signs your relationship may be unhealthy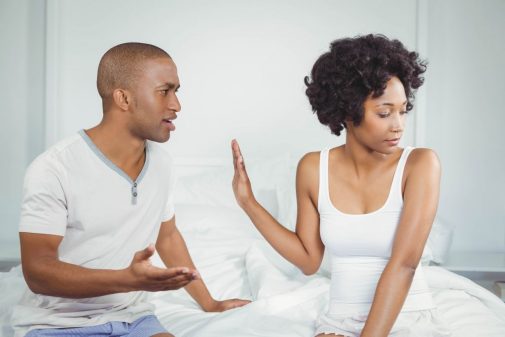 Frequent arguments over spending habits. Jealous comments about the attractive co-worker at your boyfriend's office. These things may come up so often in your relationship that you consider them normal.
But a healthy relationship makes you feel good and is one in which you and your partner respect each other. An unhealthy relationship may cause you to feel unhappy and even worried for your safety.
It can be hard to know if you are overlooking warning signs, since every relationship is different. But Dr. Rian Rowles, chairman of the department of psychiatry at Advocate Christ Medical Center in Oak Lawn, Ill., says the following signs may indicate your relationship could be harmful:
Jealousy: According to Dr. Rowles, some jealousy in a relationship is normal. "This standard type of jealousy is the kind you experience about superficial things, like being envious of a person's hair or eyes. But when jealousy revolves around the relationship your partner has with his or her friends or family, that can be more problematic," he says.
Arguing: Disagreeing over who has to decide what restaurant to eat at most likely isn't a fight to be concerned about. "Arguing in a relationship is to be expected" says Dr. Rowles. "But when it turns into name calling or crosses the line of respectful disagreement, this is a problem."
Technology: As technology creeps deeper and deeper into our lives, it carries the potential to cause harm to any relationship, romantic or otherwise. Dr. Rowles says texting can greatly contribute to unhealthy relationships. "As we all know, too much gets lost in translation with texting. Arguing or discussing emotionally charged topics via text is never a good idea."
Going through the motions: Dr. Rowles says this is a common, subtle feature that can go unnoticed in relationships. If activities together become mundane and lack a 'fun' factor, it may be time to reassess things. "There needs to be enjoyment shared sincerely by both individuals in the relationship, regardless of the activity. Doing something for the sake of saying it was done together just doesn't cut it," he says.
Unhealthy aspects of a relationship may be able to be fixed. Keep in mind that the more unhealthy aspects involved in a relationship, the more difficult it can be to change for the better. With the understanding that relationships take work, consider seeking professional help. Communication issues are one of the primary reasons couples seek out counseling.
But if your relationship causes your safety to be compromised in any way, call 911 if you are in immediate danger, and see domestic violence and sexual assault/abuse resources below:
National Domestic Violence Hotline 
24 hours, 1-800-799-SAFE (7233) Online Hotline: https://www.thehotline.org/
Links individuals to help in their area using a nationwide database that includes detailed information on DV shelters, other emergency shelters, legal advocacy and assistance programs and social service programs.
Rape Abuse & Incest National Network (RAINN) 
24 hours, 1-800-656-HOPE (4673) Online Hotline: https://hotline.rainn.org/online
Will automatically transfer the caller to the nearest rape crisis center, anywhere in the nation. It can be used as a last resort if people cannot find a shelter.
Read more:
Related Posts
Comments
About the Author
Holly Brenza, health enews contributor, is the public affairs coordinator at Advocate Children's Hospital. She is a graduate of the University of Illinois at Chicago. In her free time, Holly enjoys reading, watching the White Sox and Blackhawks, playing with her dog, Bear and running her cats' Instagram account, @strangefurthings.