One family recounts six weeks apart due to a pregnancy complication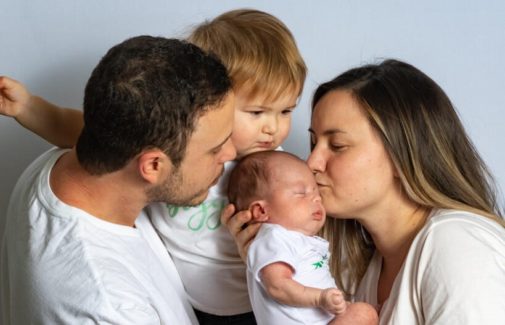 For the Kaplan family, 2020 came with its own set of surprises outside of COVID-19: a planned pregnancy, an unplanned, long-term hospital stay and nontraditional wedding ceremony.
"My wife Amanda and I decided it was time to give our son Cameron a baby brother or sister," says Eric Kaplan. "Amanda's pregnancy progressed without issue until December 22, 2020, when her amniotic sac ruptured at 28 weeks gestation."
Both nurses at Advocate Sherman Hospital —where their son Cameron was born — Eric and Amanda Kaplan headed to the Elgin hospital to speak with doctors.
"The kind team of nurses and doctors explained the leaking was amniotic fluid," says Amanda Kaplan. "However, the concern was that I could give birth early and so they initiated an emergent transfer to Advocate Lutheran General Hospital in Park Ridge where we were met with professional, calm and compassionate new team of doctors and nurses led by Dr. Suwan Mehra."
The decision was to keep Amanda Kaplan pregnant for the next six weeks at Lutheran General. Due to COVID-19 precautions and the hospitals' no-visitor policy, Amanda would spend Christmas, New Year's Eve and possibly all of January, alone.
"And then it dawned on me," said Eric Kaplan. "Amanda, a woman I have not spent more than a few days apart from since we were 18 and 19-years-old, and whom our 18-month-old son had not been apart from at all, would be kept in a hospital 25 miles from our home until birth."
A dedicated team of grandparents, family and friends mobilized to create a childcare schedule for the Kaplan's son, allowing Eric  Kaplan to work and not fall behind on his laundry or diaper duty.
"Approximately 2-3 percent of women are diagnosed with a pregnancy complication called preterm premature rupture of the membranes (PPROM)," said Dr. Suwan Mehra, a maternal fetal medicine physician and co-medical director of the Center for Fetal Care at Advocate Children's Hospital in Park Ridge, Ill. "When this happens, there is an increased risk of infection and our main priority is to keep the patient pregnant as long as possible for the fetus to continue developing. In Amanda's case, she had none of the risk factors associated with this condition."
Risk factors for PPROM include a prior history of PPROM, short cervix, smoking during pregnancy, or frequent bleeding. Treatment generally includes a hospital stay and bed rest to monitor for signs of infection, the baby's movement, heart rate and signs of labor or contractions. Women can have a healthy pregnancy following PPROM but would need to be monitored more closely due to the high risk.
Amanda Kaplan detailed stories of watching television shows with Lutheran General residents, receiving secret snacks from nutrition, spending hours talking with the environmental services team members, and receiving exemplary care from the nursing team.
"Amanda and I planned to get married on NYE 2020, but our plans changed due to her hospitalization," says Eric Kaplan. "Instead of a small party with friends and family, I drove our marriage license to the courthouse alone and 15 minutes and $20 later, we were officially husband and wife."
When the team of residents learned that Amanda Kaplan had missed her wedding day, they threw an impromptu party in her room complete with a sash, balloons, baked goods and wonderful company.
"I can't put into words how difficult it was to be away from my husband, son and family, especially as we were approaching two milestones so close together," recalls Amanda Kaplan. "I will never forget the generosity and overwhelming support I received from the residents, my new family, on our wedding day."
Luke Kaplan was born on January 24, 2021. Amanda Kaplan was able to go home to her husband and son Cameron, but Luke had to remain at the hospital for at several weeks before he could join his family.
The family reunited March 1 as an official family of four.
Related Posts
Comments
About the Author
health enews staff is a group of experienced writers from our Advocate Aurora Health sites, which also includes freelance or intern writers.