Son's surprising take on mom's cancer diagnosis: 'An absolute blessing'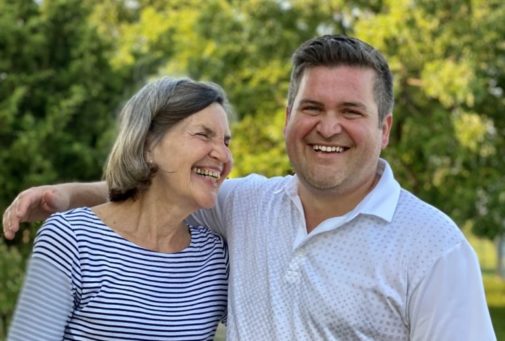 Just moments after picking up her granddaughter from school, Kathie Lesniak sat behind the wheel with 7-year-old Audrey in the back seat and reluctantly picked up her cell.
Normally she'd never talk on the phone with any of her "babies" in the car, but she had been anxiously awaiting test results from her doctor.
"Everyone kept saying 95% of these come back as nothing," the 67-year-old, mother-of-three and grandmother-of-six confides, "but truth be told, in my heart, I knew something would be wrong."
Lesniak was right. The diagnosis was ductal carcinoma in situ, or DCIS. It meant that the cells lining the milk duct of her breast had become cancerous.
"Over and over again in my head, I just kept hearing 'DCIS,'" she says. "You know when you look at things, and they're jumbled in your brain? That's what I was experiencing."
On the phone was Dr. Anna Katz, a breast surgical oncologist with Advocate Medical Group, who was able to provide some important context despite Lesniak's shock. DCIS is considered non-invasive or pre-invasive. It's referred to as stage 0 breast cancer.
Interested in scheduling a mammogram?
The prognosis was good. It was caught early. A recent mammogram was well-timed, revealing concerning calcium deposits. After a follow-up surgical biopsy and her phone call with Dr. Katz, Lesniak gathered her son Tommy and other adult children to tell them the best possible bad news.
Fighting through tears, she relayed the diagnosis, followed by the encouraging words of Dr. Katz: "This is totally curable."
"It's an absolute blessing," Tommy says. "Ideally, it would have come back negative, but hearing stage 0 and for her to get such outstanding follow-up care immediately. We caught it at a great time."
Millions of missed mammograms
COVID-19 drastically disrupted breast cancer screenings in the United States, leading to an 87% drop during April 2020 compared with previous 5-year averages for that month, according to the U.S. Centers for Disease Control and Prevention.
But missed screenings didn't stop there.
"Our research with the Breast Cancer Research Consortium, which is a federally funded registry of many breast cancer centers across the U.S., demonstrated a near complete cessation of mammography services from mid-March 2020 to June 2020," says Dr. Nila Alsheik, chief of breast imaging at Advocate Aurora Health and co-medical director of the Caldwell Breast Center at Advocate Lutheran General Hospital, where Lesniak was treated. "We also demonstrated the very troubling racial disparities in access and utilization of screening diagnostic mammography during the first five months of the pandemic."
A manuscript co-authored by Dr. Alsheik and published in the Journal of the National Cancer Institute concluded that while screening mammography for white and Black women returned to more than 90% of their pre-pandemic levels by July 2020, the rebound among Asian and Hispanic women lagged, at 51% and 73% respectively.
Some health care providers worry that missed or delayed mammograms may lead to more cases of invasive disease. The American Cancer Society said in March that women who skip even one scheduled mammography screening before a breast cancer diagnosis face a significantly higher risk of dying from cancer.
"We're seeing an uptick of people catching up on their screenings, which is good," says Dr. Katz, "but we're hearing of patients across the country having to wait weeks or even months for diagnostic imaging. Credit to our Advocate Aurora nurse navigators, techs and radiologists working so hard to accommodate patients and make it seamless and easy for them. We've done an excellent job of getting people in quickly."
"As you can imagine, not knowing is the worst part," she says. "Anxiety levels run high. By facilitating fast imaging, fast diagnosis, fast results and fast consultations with physicians, we can minimize the psychological impact. Just knowing what you're dealing with can be a huge sense of relief."
Busia Boot Camp
Seven years before her diagnosis, Lesniak left behind a 16-year-long role as an administrative assistant at Notre Dame College Prep in Niles, IL, to take care of Audrey full-time. Audrey was followed by Joseph, then Mia Jo, and finally, Grace, who was born in 2020.
"It was the best decision of my life. I enjoy every minute we spend together," the adoring grandma beams, before explaining the ins and outs of what she endearingly refers to as Busia Boot Camp (Busia is a Polish term for grandmother). "We have a routine. We get up early, eat breakfast, get ready for school, drop them off, pick them up. Then we either take a walk, get on the scooters, go to the park or the pool or to baseball games. Any activity I can get them into, that's where we go."
"One thousand percent we depend on her. She's got the energy of 50 people," says Tommy, who like his wife has a demanding job. "We'd be absolutely lost without her. Her biggest concern when she got the diagnosis seemed to be the appointments and not being around as much with the kids. She likes to do everything for them."
Treatment and Recovery
After the biopsy, Lesniak required more surgery to "scrape the margins" – a process to clear the affected tissue of any cancer cells. What followed were 20 radiation treatments, performed on 20 consecutive weekdays.
"I was very fortunate. I had basically no side effects – a little redness, but no headaches, no fatigue, no itching, no loss of appetite, no soreness, no swelling," she says. "Honestly, it took longer to park than it did for the treatment."
Dr. Katz says Lesniak is now in remission. While she'll need to increase the frequency of screenings going forward, "she will live a long, normal, healthy life because she was so proactive about her health."
"You have to follow up on these things. You can't just let them go," Lesniak says. "I love my family. I would do anything to be with them as long as I can. So I'd recommend, please go and get checked. For the little bit of inconvenience, it's so worth the time to go. In my case, it saved my life."
As for now 8-year-old Audrey, she's just happy to be "enlisted" again. 
"She's kind. She's loving. She's there to support us all the time," Audrey says. "Busia means the whole world to me."
Advocate Aurora Health offers easy online mammogram scheduling and same-day results in most cases. To schedule a mammogram or find more information, visit aah.org/breasthealth today.
Related Posts
Comments
About the Author
Adam Mesirow, health enews managing editor, is media relations director of Advocate Aurora Health. Securing high-profile media placements for more than a decade, he loves to tell a good story. Adam earned a Bachelor's degree in Public Policy from the University of Michigan. He lives in Chicago and enjoys playing sports, reading TIME magazine and a little nonsense now and then.