3 tips for talking to your child about the news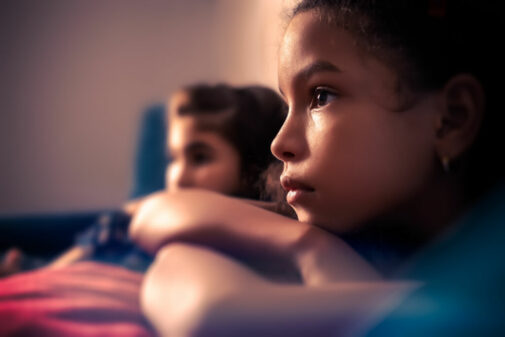 The daily news in our nation has undoubtedly felt heavy and been difficult to process. Many adults have a hard time turning away or unplugging, which can take a toll on mental health. Parents are faced with the additional weight of discussing events with their children. As a parent, what should you keep in mind?
Dr. Malcolm Vandrevala, a child and adolescent psychiatrist with Advocate Children's Hospital, offers the following insights.
Make sure children know that you will do everything in your power to keep them safe. Many of the events that are heard on the news can be scary for both adults and children. And while adults unfortunately know the risks, children aren't able to rationalize or understand concepts in the same way as their parents. Children tend to create their own narrative about an event, which may or may not be accurate. Therefore, it's important that as parents, we build a sense of safety, reassurance and comfort for our children.
Limit exposure to television, radio and other media. In today's day and age, access to information is quick and easy. This abundance of information can be challenging and overwhelming for children and adolescents to navigate. What's more, different sources may present biases or misinformation. The age of your child will determine your approach to their media exposure. Very young children likely shouldn't be watching or listening to the news at all. For older kids and young adolescents, the amount of exposure will vary from home to home. Parents should be sure to monitor what their children are watching and decide how much is too much. Between phones, television and friends, it may not be feasible to limit an adolescent's access to media as stringently. Therefore, it's more important to understand what your child is watching and talk to them about it. Educate them about what is out there – it's better they hear it from their parents first than through other means.
Discuss events and feelings together. While we may be able to limit some exposure, there are bound to be things we can't control. It is best to be able to sit down with your child and talk about some of these difficult topics (depending on their age) and express feelings, concerns and thoughts. Seeing a parent model and talking about these difficult events help children know that it is okay to have complex emotions and feelings about these events. It also lets children know that they are not alone in navigating these difficult times.
Read more:
Related Posts
Comments
About the Author
Holly Brenza, health enews contributor, is the public affairs coordinator at Advocate Children's Hospital. She is a graduate of the University of Illinois at Chicago. In her free time, Holly enjoys reading, watching the White Sox and Blackhawks, playing with her dog, Bear and running her cats' Instagram account, @strangefurthings.