Are you drinking more lately?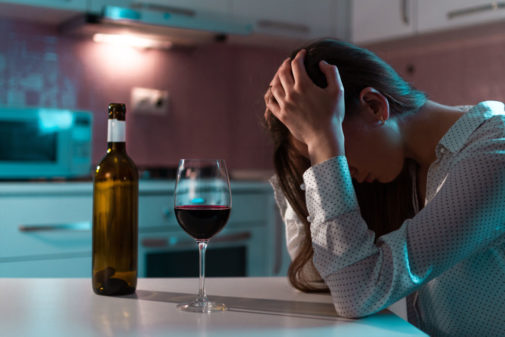 "Just one more," you might say while gazing longingly into your empty wine glass, reflecting on your hectic day at work. Not to mention you spent an unreasonable amount of time trying to help your child get back into their virtual classes after the internet connection shorted out for the umpteenth time that day.
No matter your reasons, if you find you've been drinking more since the pandemic started, you're not alone. A recent study in the journal JAMA Network Open found that alcohol consumption in adults 30 years and older is up 14% from 2019, and heavy drinking among women is up a startling 41%.
Though an adult beverage can occasionally help you wind down, you're likely aware of the complications of frequent moderate or heavy drinking.
"Weight gain and skin issues are some of the more common signs we see," explains Dr. Melissa Garcia, family medicine physician at Aurora Medical Center in Oshkosh, WI. "But there are more serious complications, which include depression, kidney and liver failure and alcoholism."
Dr. Garcia recommends seeking and trying healthier alternatives when trying to relax at the end of a stressful day, such as:
Lighting some candles.
Taking a bath while listening to calming music.
Tapping into your artistic side. Pick up a hobby like painting or photography. Art is a great way to reset your mind.
Getting some exercise. This one is twofold – you'll feel healthier after working out, so you're less likely to reach for an alcoholic beverage, and it releases endorphins, dopamine and serotonin, which boost your mood naturally.
Watching a movie you know you love.
Taking up journaling
Trying meditation to connect with yourself on a deeper level.
Treating yourself (in moderation) to a snack or non-alcoholic beverage you enjoy, or cooking that delicious meal you've been craving.
"Though there's no universal standard for 'how much is too much' when it comes to alcohol, since your body chemistry determines how your body processes alcohol," says Dr. Garcia. "It helps to be aware of how much you're consuming. Knowing and being aware of how you feel – physically, mentally and emotionally – is key when determining your limits. If you aren't sure, reach out to your primary care provider and they will be able to help you come up with a personalized guide."
If you feel you're struggling with alcohol consumption, seek help right away, even during a pandemic. Read how Advocate Aurora Health is taking additional steps to keep you safe with its Safe Care Promise. You can also call the SAMHSA's National Helpline for 24/7, 365-day-a-year, confidential support, information and treatment referrals.
Related Posts
Comments
About the Author
health enews staff is a group of experienced writers from our Advocate Aurora Health sites, which also includes freelance or intern writers.