Love cheese? We've got great news for you.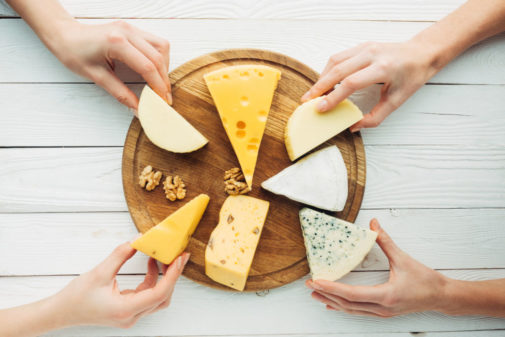 If you Havarti a self-proclaimed love for cheese, it doesn't get much cheddar than this: Cheese curd actually be gouda for you!
All cheesy jokes aside, a study reveals that cheese may not be as much of a nutritional villain as historically thought. In fact, the study suggests that consuming whole-fat dairy foods may help to reduce body fat. And who better to speak on the matter than a physician hailing from the majestic dairy empire that is Wisconsin?
"Obviously, you can overdo something, right? If you're eating an overabundance of cheese every day, you're not going to see magnificent health results," says Dr. Janna Kroiss, family medicine physician at Aurora Health Center in Two Rivers, Wis. "But what we need to do is work on ditching the misguided theory that 'calories in' equals 'calories out'. It's simply not that simple."
It turns out cheese is actually packed with healthy nutrients and substances, like protein and calcium. Here are some cheeses to consider when on your next grocery shopping excursion:
Mozzarella and swiss – contain less sodium and fat than most cheeses
Cottage cheese – high in protein, but be sure to opt for the full-fat version
Parmesan – rich in calcium and phosphorus
Cheddar – great for bone and heart health, thanks to a rich source of vitamin K
Muenster, blue and brie – great choices for those with an intolerance to lactose
The list goes on. But there are a couple types of cheeses Dr. Kroiss recommends against.
"One thing to keep in mind is that processing foods removes or destroys some of their nutritional value and loads them with preservatives," says Dr. Kroiss. "So I advise staying away from foods like cheese singles or cheese sprays."
The unfortunate truth is that, even though it could be good for you, cheese still contains a lot of saturated fat, which can adversely affect your cholesterol. Dr. Kroiss encourages people to seek the personalized advice from their doctor before making any dietary changes.
"Another important aspect of cheese consumption is to remember to enjoy it," she says. "Try to limit yourself to no more than about four ounces of cheese per day. And take the time to savor it, because cheese should be a pleasant, delightful treat and not your sole source of nutrition."
You shouldn't let COVID-19 keep you from seeking the health care you need. Read how Advocate Aurora Health is taking additional steps to keep you safe with its Safe Care Promise.
Related Posts
Comments
About the Author
Brianna Wunsch, health enews contributor, is a public affairs coordinator for Advocate Aurora Health with a BA in public affairs from University of Wisconsin - Green Bay. In her free time, Brianna enjoys living an active lifestyle through biking, hiking and working out at the gym, but even more than that, she especially loves spending quality time with her two cats (Arthur and Loki), son and husband.