"The call to rest and recharge ourselves is just as important as the call to work."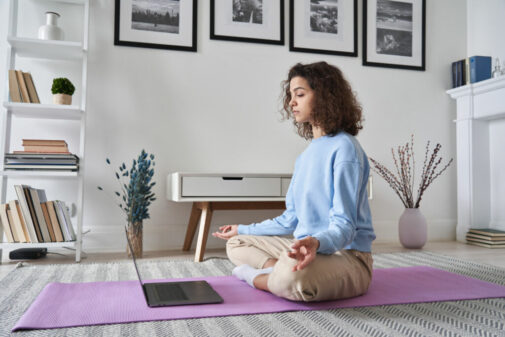 Take a moment to think about the word "relaxation." What emotions are you feeling as you reflect? Do you feel joy? Guilt, maybe? Anxiety?
Many people, especially women, can overextend themselves, and the desire for ways to decompress is real. Relaxation is frequently thought to translate to only physical pampering (hence the potential for feeling guilty), but experts say it's about giving yourself permission to feel peaceful and experience mental freedom.
Women's History Month celebrates all that women do and their contributions. Traditionally, being successful correlates putting in long hours of hard work, but experts say we tend to disregard the importance of taking a break and the positive impact rest and renewal can have on our creativity and focus.
"People are exhausted. They need space, regrouping space," says Janet MacLean, director of Clinical Pastoral Education for Advocate Aurora Health.
MacLean along with Staycie Flint, an Advocate Aurora Health chaplain, facilitate AAH Renewal Days, which offer emotional support and healing to team members navigating distress. During the program, participants engage in social exercises that can be practiced independently or in a group setting. While Renewal Days is for Advocate Aurora team members, the principles of the program can be helpful for everyone and includes forming support networks and sharing feelings.
"The original idea focused around understanding how we can help team members manage their jobs in a holistic and meaningful way," says MacLean.
When the pandemic started, MacLean and Flint sought ways to support team members online. This included facilitating sessions focused on internal recovery and thriving through spirituality, which MacLean says is unique to every individual.
The Renewal Day experience provides an opportunity for team members to slow down and connect with peers who are also navigating the joys and difficulties of working in health care. During the group discussion and independent exercise phase of the program, participants are encouraged to bring forward whatever is weighing on them and surrender those worries.
"The call to rest and recharge ourselves is just as important as the call to work," says Flint. "It can help you build collective connections and see yourself reflected through others' healing. Allow yourself to be a whole person and show up in many ways to be useful in the world."
For Julie King, learning program manager in Leadership Development, setting aside an entire day to focus on her personal resilience and well-being was "a gift."
"I didn't realize how much stress I carried on my shoulders each day until I felt them release during this program," King said.
MacLean hopes this program helps encourage other women to mirror the women in history who have inspired and influenced.
"Inspirations also can come from your family or friends," says MacLean. "I remember when my grandmother created a space for the minister of our church who was having a rough time. She sat with him, she didn't judge him, she just created a space of compassion for him. That's what inspires me."
Related Posts
Comments
About the Author
Amber Thompson is a marketing graduate of the University of Wisconsin in Milwaukee. In her free time, Amber enjoys passion-filled projects including blogging and photography. Amber loves spending her free time reading journalistic columns, listening to motivational podcasts and discovering creative recipes to get her young son to eat his vegetables.