What do you do if you're facing infertility?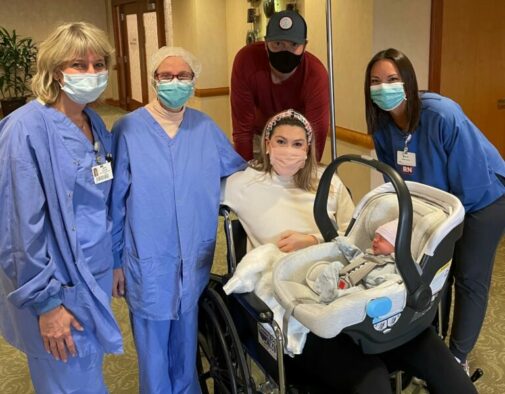 Aiden was Elise Selvick's miracle baby. After years of trying, she had finally gone to the doctor for help. What she found out was shocking — at only 30 years old, she was diagnosed with diminished ovarian reserve. She thought she had plenty of time to have children, but that one phone call changed everything.
Selvick started searching for a fertility clinic. Her infertility insurance required her to go to a center of excellence, which led her to the Women's Pavilion at Aurora West Allis Medical Center and Dr. Aida Shanti. Selvick made an appointment with her husband, Travis, to learn about their options.
"Dr. Shanti went over everything in detail and was very realistic with me. I appreciated that," said Selvick. "I remember her telling me multiple times that we wouldn't waste any time."
As a fertility specialist at Aurora West Allis Medical Center, Dr. Shanti walked Selvick through her options and helped the couple settle on in-vitro fertilization. When early attempts at retrieving Selvick's own eggs and fertilizing them were unsuccessful, they moved on to an egg donor.
But as they prepared for implantation, they made another discovery—Selvick had a uterus abnormality called a partial septate uterus. The heart shape of her uterus made it difficult to for an embryo to implant.
"The uterus is very important because that's where an embryo implants. Elise had what is called a septum, which is a wall in the middle of the uterus that is usually made of fibrous tissue. The embryo can't implant there because there isn't enough blood flow," said Dr. Shanti. "The surgeries we did helped normalize her uterus and remove the septum and polyps."
After several successful surgeries, Selvick and her husband got a better kind of phone call—the implantation was successful. On their five-year wedding anniversary, they confirmed she was pregnant. On April 10, she gave birth to a healthy baby boy, Aiden, at Aurora West Allis Medical Center. Her OBGYN Dr. Stacy Syrcle delivered Aiden at 9:24 a.m. Their first stop after Selvick was discharged was Dr. Shanti's office for a tear-filled reunion.
"We are so incredibly grateful to the entire team for all their time, care, and expertise. We would not be here without them," said Selvick. "I feel like they never gave up on me."
For women who are struggling to get pregnant, talking to a doctor is an important step. Age is an important factor, as women over 35 have a lower chance of getting pregnant and a higher risk of miscarriage. Understanding when to talk to your doctor is important. Dr. Shanti recommends that:
Women under 35 should talk to your doctor if you've been trying to get pregnant for one year if there are no other issues such as no ovulation or endometriosis
Women over 35 should talk to your doctor if you have been trying for six months
Women over 38 should talk to your doctor as soon as you decide to start trying
"All my patients are very personal to me," said Dr. Shanti. "Seeing her pregnant and discharging her from my clinic was a big thing for me. Every patient that graduates from our clinic is a big deal."
Related Posts
Comments
About the Author
Ben Hoekstra is a public affairs coordinator with Advocate Health Care and Aurora Health Care. He previously worked in marketing and PR for various Milwaukee nonprofits and received his master's degree in Corporate Communications from Marquette University. He enjoys the outdoors, cooking, and all things Milwaukee.