Life after stroke: Survivors supporting survivors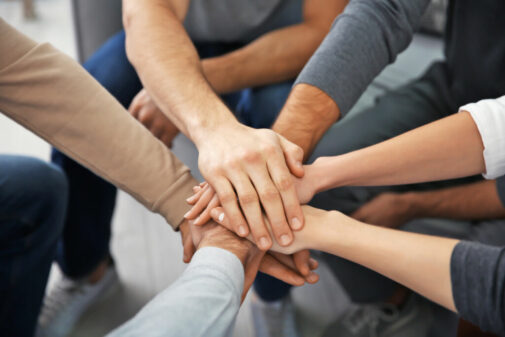 Stroke survivors often face life-altering effects that can damage or limit their body as well as their mind. In addition to physical challenges such as paralysis, weakness, visual or spatial problems, there are mental and emotional challenges to recovery as well for both the survivor and their loved ones.
A study shared in the National Library of Medicine found that stroke survivors have an increased risk for clinically significant depressive symptoms and are at increased risk of suicide, according to the American Heart Association.
To help stroke survivors overcome the challenges associated with recovery, the American Stroke Association recommends survivors engage in support groups and seek support from family and friends, in addition to working with a psychologist or psychiatrist.
"Depression is the hardest part of the stroke, both for the stroke survivor and the caregivers," shared Jim Geminer, a stroke survivor and support group leader. "Stroke survivors like to see people who have recovered and learn what to expect."
After Geminer's stroke 10 years ago, he became involved with the stroke support group at Advocate Sherman Hospital in Elgin, Ill., and started volunteering with Stroke Survivors Empowering Each Other (SSEEO), a non-profit organization dedicated to encouraging, supporting and guiding stroke survivors and families while providing resources to help meet the challenges of stroke recovery.
"Stroke recovery looks different for everyone. One constant is each stroke survivor has had a life-changing diagnosis," explained Sandra Parker, Stroke Coordinator at Advocate Sherman who oversees Geminer and the other stroke survivor volunteers. "The Stroke Survivor 2 Survivor program helps bridge the gap between when patients leave the hospital to when they are adjusting to life at home. It can be difficult to prepare for the unknown challenges that come with being home and helpful to talk with someone who has had that same life-changing diagnosis as they had."
As part of the SSEEO's Stroke Survivor 2 Survivor program, volunteers like Geminer connect with stroke survivors for the first three months of their recovery journey. The calls offer support, encouragement, guidance and resources to survivors and their caregivers.
While the support groups and calls are a lifeline for those just beginning recovery, Geminer finds enormous inspiration and satisfaction in his volunteer work. "The nurses are so dedicated to people with strokes," Geminer explained. "They really try to help everybody and that's why I wanted to help other people who had strokes."
"Having a stroke or another illness that leaves you disabled can be very isolating," noted Parker. "That's why community is so important, so survivors know they are never alone and that they have other stroke survivors and stroke coordinators who are advocating and fighting for them."
Read about the symptoms of stroke and take a quick, free online assessment to know your stroke risk.
Related Posts
Comments
About the Author
Elizabeth Blasko is a public affairs coordinator with Advocate Health Care and Aurora Health Care. She studied public relations and nonprofit leadership at Western Michigan University. Elizabeth previously worked at Bernie's Book Bank, a nonprofit dedicated to increasing book ownership among underserved children.